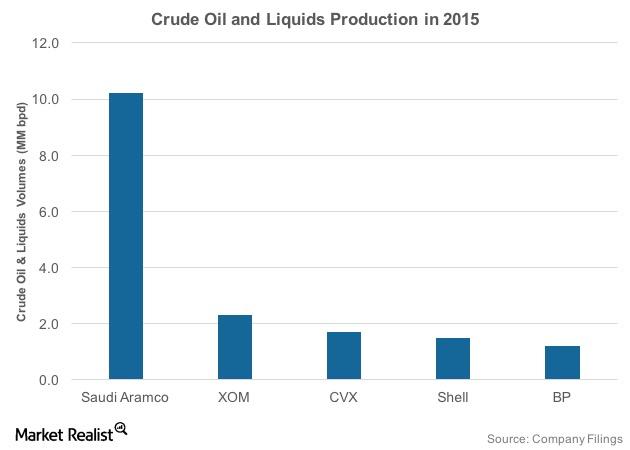 How Does Saudi Aramco's Production Compare to Its Peers?
Crude oil and liquids production
So far in this series, we discussed Saudi Aramco's IPO (initial public offering) details, its huge reserves, and the likely reason behind an IPO. In this part, we'll evaluate the operational level performance of its upstream segment.
Saudi Aramco produced 10.2 MMbpd (million barrels per day) of crude oil in 2015—7.1 MMbpd was exported. Saudi Aramco produced 3.5 billion barrels of crude oil in 2015—2.5 billion barrels were exported.
Article continues below advertisement
Saudi Aramco's production accounted for 27% of OPEC's (Organization of the Petroleum Exporting Countries) average production in 2015. This reveals the capacity of the largest oil producer in the world. After Saudi Arabia, Iraq and Iran have the highest production in OPEC. Currently, they stand at ~4.5 MMbpd and ~3.5 MMbpd, respectively. It isn't surprising that Saudi Arabia has a high influence on OPEC's decision-making power. Read What's Saudi Arabia's State of Mind before OPEC's Meeting? for more on Saudi Arabia's dominating role in OPEC.
For context, ExxonMobil (XOM) produced 2.3 MMbpd of liquids in 2015. This was lower than Saudi Aramco's production but higher among the currently listed integrated energy companies. Chevron Corporation (CVX), Royal Dutch Shell (RDS.A), and BP (BP) produced 1.7 MMbpd, 1.5 MMbpd, and 1.2 MMbpd.
Natural gas
The situation remains similar in terms of natural gas. In 2015, Saudi Aramco supplied 11.6 Bcfd (billion cubic feet per day) of raw gas. The company plans to almost double the gas supply to 20 Bcfd over the next decade. Comparatively, ExxonMobil's natural gas production stood at 10.5 Bcfd in 2015. Chevron, Shell, and BP produced 5.3 Bcfd, 8.4 Bcfd, and 5.9 Bcfd of natural gas.
If you're looking for exposure to oil and gas exploration and production stocks, you can consider the iShares U.S. Oil & Gas Exploration & Production ETF (IEO). IEO has ~75% exposure to the sector.