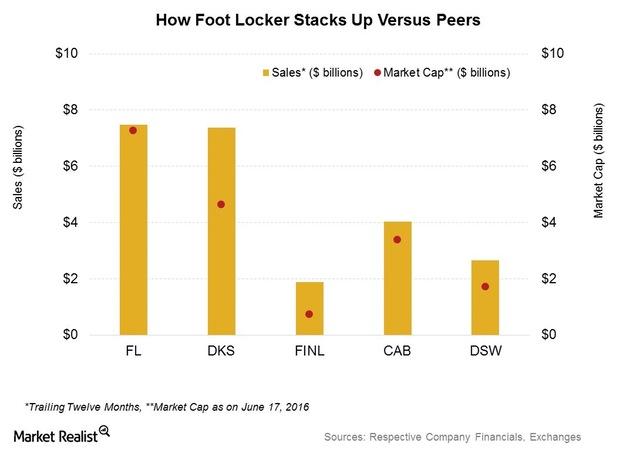 Porter's Five Forces: What's Foot Locker's Industry Position?
Competitive forces analysis: Market size and revenue for US sporting goods retailers
In this part of the series, we'll look at the industry forces that are affecting sporting goods retailers. We'll also look at Foot Locker's competitive positioning based on Porter's Five Forces listed below:
degree of competition
ease of entry
ease of substitution
bargaining power of buyers
bargaining power of sellers
Article continues below advertisement
Article continues below advertisement
Degree of competition
The US market for sporting goods was estimated at ~$64 billion in 2014.[1. Source: National Sporting Goods Association, Statista] Several retail (XLY) players compete in the highly-fragmented industry, including mass merchandisers such as Walmart (WMT), department stores, e-retailers, and specialty sporting goods retailers such as Foot Locker (FL).
Retail players also include athletic gear companies such as Nike (NKE) that own and operate their own retail formats. With estimated sales of $9.3 billion in 2013, Walmart is the largest retailer of sporting goods in the United States.[2. Souce: SportsOneSource, United States Census Bureau, Statista]
Dick's Sporting Goods (DKS) and Foot Locker (FL) reported US sales of $7.3 billion and $5.3 billion, respectively, in fiscal 2016.[3. fiscal year ended January 30, 2016] They're two of the largest specialty retailers of sporting goods in the United States.
Ease of entry
There are few barriers to keep new industry entrants away. However, due to the multiplicity of retailers and channels selling mostly branded merchandise, competition is tough, and the industry appears to be consolidating.
Several sporting goods retailers, including Sports Authority and Sports Chalet, have declared bankruptcy in 2016. Sports Authority had $3.5 billion in sales in 2013.[4. Source: SportsOneSource, United States Census Bureau, Statista] This trend could benefit larger players such as Foot Locker and DKS.
NKE and FL together make up 3.6% of the portfolio holdings of the Consumer Discretionary Select Sector SPDR ETF (XLY).