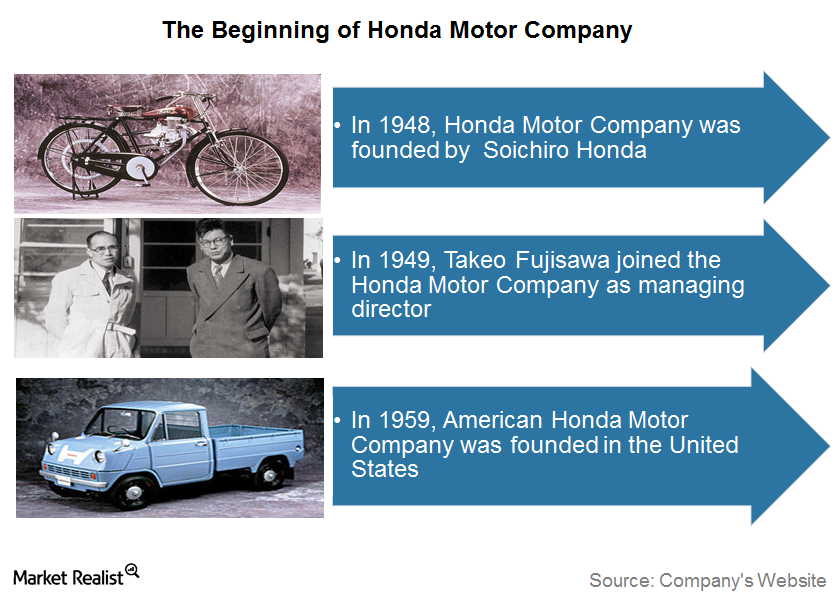 Overview: The Beginning of Honda Motor Company
Overview
Honda Motor Company (HMC) is the second-largest Japanese automaker after Toyota (TM). It is the world's largest internal combustion engine manufacturer by volume.
Soichiro Honda founded Honda Motor Company in 1948, two years after starting an unincorporated enterprise to manufacture motors for motorized bicycles in September 1946. Now, let's take a look at Honda's major operations.
Article continues below advertisement
Brief history
In October 1949, Takeo Fujisawa joined Honda Motor Company as its managing director. Fujisawa primarily looked after the company's financials while Honda focused on the manufacturing process.
According to Honda's website, their partnership was a good example of "the right man in the right place." It added that together, the two men made the ideal managerial combination and couldn't have managed without the other.
European auto giant Volkswagen (VLKAY) and Japanese automaker Toyota were founded in 1937, well ahead of Honda Motor Company. However, these companies were founded much later than the bedrock companies of mainstream US automakers (IYK), such as Ford (F) in 1903 and General Motors (GM) in 1908.
Currently, Honda is primarily listed on the Tokyo Stock Exchange. In the US, the company's ADRs (American depositary receipts) trade on the New York Stock Exchange.
Series overview
In this series, we'll look at a brief history of Honda Motor Company (HMC) and its key geographical regions. Then we'll analyze Honda's most recent financial figures and data, which are important factors for investors to know.
This series will help auto investors to become familiar with the key aspects of Honda's (HMC) business before investing in its stock and ADRs. Toward the end of the series, we'll look at the company's current valuation and the factors that could drive its valuation multiples in the future.