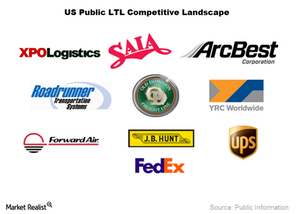 Who Are Old Dominion's Biggest LTL Competitors Today?
ODFL's peer group
Old Dominion Freight Line's (ODFL) peer group includes LTL (less-than-truckload) companies that compete in the national and regional marketplace. ODFL also competes, in part, with some US railroads. Major parcel delivery giants like FedEx (FDX) and United Parcel Service (UPS) are also contenders with ODFL for business.
Article continues below advertisement
J.B. Hunt Transport Services
J.B. Hunt Transport Services (JBHT) is a ground transportation, delivery, and logistics company in North America. The company operates through four segments: Intermodal, Dedicated Contract Services, Integrated Capacity Solutions, and Truck. Notably, J.B.Hunt reported a 0.4% rise in revenues in 2015 over the previous year.
XPO Logistics
XPO Logistics (XPO) offers supply chain solutions and operates in two segments: Transportation and Logistics. XPO's transportation services consist of LTL, last mile, freight brokerage, expedited, global forwarding services, full truckload, and intermodal services.
In Logistics, the company offers a plethora of contract logistics services, including highly engineered and tailor-made solutions. In 2015, XPO reported a rise of 223% in revenues mainly due to the acquisition of UX Specialized Logistics, Bridge Terminal Transport Services, Norbert Dentressangle, and Con-way Freight last year.
Article continues below advertisement
Saia
Saia (SAIA) offers a variety of LTL, non-asset truckload, expedited and logistics services across the US. The company works through nine major subsidiaries. SAIA's LTL Freight is a multi-regional LTL carrier that caters to more than 30 states in the West, Pacific Northwest, South, Southwest, and Midwest. For fiscal 2015, the company reported a fall in revenues by 4% on a year-over-year basis.
ArcBest
ArcBest (ARCB) is a holding company that provides freight transportation services and logistics solutions through subsidiaries. ARCB operates in five segments: Premium Logistics (Panther), Freight Transportation (ABF Freight) segment, Emergency & Preventative Maintenance (FleetNet), Transportation Management (ABF Logistics), and Household Goods Moving Services (ABF Moving). In 2015, the company recorded a growth of 2.1% in revenues.
Article continues below advertisement
Roadrunner Transportation Systems
Roadrunner Transportation Systems (RRTS) offers a wide range of worldwide supply chain solutions. These include expedited LTL (less-than-truckload), truckload logistics, inventory management, freight consolidation, customized and intermodal solutions, air freight, international freight forwarding, customs brokerage, and transportation management solutions. The company reported a rise of 6.5% in revenues in 2015.
YRC Worldwide
YRC Worldwide (YRCW) provides many transportation services as well, with LTL networks primarily in North America. The company offers supply chain solutions that facilitate clients to transport retail, industrial, and commercial merchandise. YRCW operates through two segments: YRC Freight and Regional Transportation. In 2015, the company's revenues declined by 4.7%.
Transportation and logistics companies make up part of the industrial sector. Railroads and airlines make up ~5.2% and ~4.8%, respectively, of the portfolio holdings of the iShares US Industrials ETF (IYJ).
Now let's take a look at Old Dominion's operating margins.