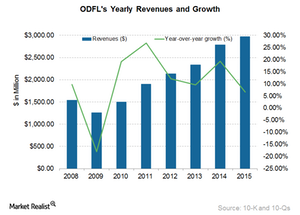 How Old Dominion Freight Line Dominates the Less-Than-Truckload Industry
A dominant LTL player
Old Dominion Freight Line (ODFL) is the United States' major provider of regional, interregional, and national LTL (less-than-truckload) services. The company's services include ground and air expedited logistics and consumer household pickup and delivery.
The company also provides an array of other niche services such as container drayage, truckload brokerage, supply chain consulting, and warehousing. Headquartered in Thomasville, North Carolina, the company had 17,931 employees on December 31, 2015.
ODFL's revenues rose from $1.5 billion in 2008 to $2.9 billion in 2015. This represents a CAGR (compound annual growth rate) of ~10%. According to Transport Topics, the company was the fourth-largest LTL motor carrier in the US on the basis of its 2014 revenues.
Old Dominion derives over 95% of its revenues from transporting LTL shipments. The shipment demand is usually linked to the level of industrial output and the general health of the US domestic economy.
Article continues below advertisement
Article continues below advertisement
LTL industry in the US
The American Trucking Association pegged the total US transportation revenues in 2014 at $872.1 billion. The trucking industry's share of that was 80.3%. According to the 2014 revenue data compiled by Transport Topics, the largest ten and 25 LTL motor carriers accounted for roughly 49% and 60% of the total LTL market in the US.
Competition
The US logistics and transportation industry is highly fragmented. ODFL competes with regional, interregional, and national LTL carriers SAIA (SAIA), YRC Worldwide (YRCW), and Roadrunner Transportation Systems (RRTS). It also competes with small package carriers and airfreight carriers FedEx Corporation (FDX) and United Parcel Service (UPS), and railroads like Norfolk Southern (NSC) and CSX Corporation (CSX). Old Dominion also contends with third-party logistics providers that have a say over transportation modes and carriers.
Investors should note that scale matters for LTL operators. It requires huge capital investments to build a wide hub-and-spoke model. According to YRC Worldwide's (YRCW) investor presentation, among the publicly traded less-than-truckload carriers, ODFL had a 13.4% market share by tonnage at the end of September 2015, whereas YRCW had a 23.4% market share.
FDX had a slightly higher market share of 24.3% in the third quarter of 2015, while its archrival, UPS, had a 9% market share. XPO Logistics (XPO) had a 16.1% share through Con-way Freight.
Notably, major trucking companies in the US make up 10.9% of the iShares Transportation Average ETF (IYT).
We'll examine ODFL's Domestic Services segment in the next part.