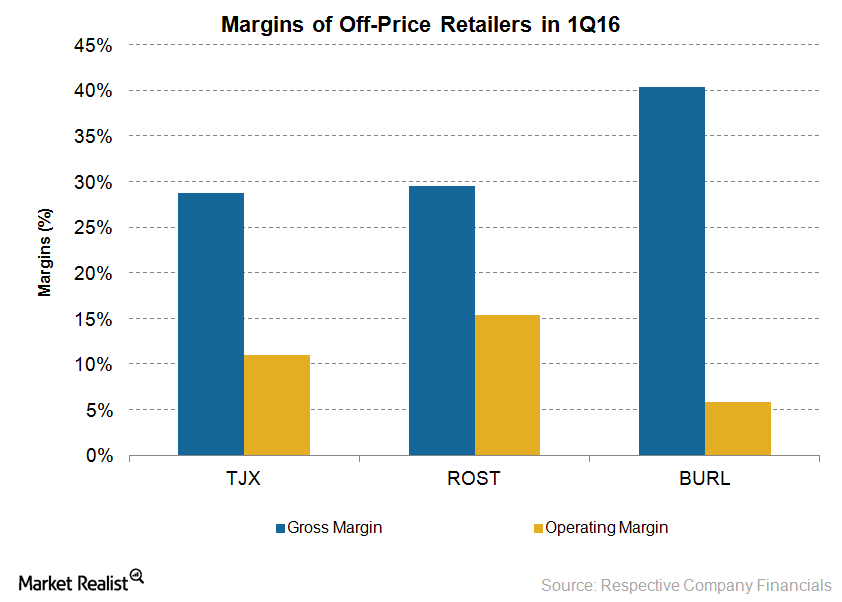 Which Off-Price Retailer Is Operating at the Highest Margins?
Strong margins in a tough market
Major off-price retailers have strong margins supported by lean operating models, efficient inventory management, and strong vendor relationships.
Off-price retailers such as TJX Companies (TJX), Ross Stores (ROST), and Burlington Stores (BURL) operate with low cost structures compared to major department stores.
Article continues below advertisement
Margins in 1Q16
In 1Q16, Burlington Stores' gross margin was higher than those of its off-price peers. Burlington Stores' gross margin (based on total revenue) rose by 30 basis points to 40.4% in 1Q16, driven by higher initial markups.
TJX Companies' 1Q16 gross margin rose by 50 basis points on a year-over-year (or YoY) basis to 28.8%, driven by buying and occupancy cost leverage on strong same-store sales growth.
Ross Stores' gross margin fell by 10 basis points to 29.5% in 1Q16 due to higher distribution expenses and the unfavorable timing of packaway-related costs.
Despite its higher gross margin, Burlington Stores' operating margin was lower than its peers' margins in 1Q16. However, the company's operating margin improved by 100 basis points YoY to 5.8% in 1Q16. This improvement was driven by occupancy leverage and advertising spending on strong same-store sales and the deferral of $2 million of expenses from 1Q16 to 2Q16.
TJX Companies' operating margin fell by 20 basis points to 11.1% in 1Q16 due to higher wages and investments to support the company's growth plans. TJX Companies accounts for 1.4% of the PowerShares Dynamic Large Cap Growth ETF (PWB).
Ross Stores' (ROST) operating margin fell by 30 basis points to 15.4% in 1Q16 due to the deleveraging of expenses on weak same-store sales and increased wages. Nordstrom (JWN), which operates off-price Nordstrom Rack stores, reported a gross margin of 35.4% and an operating margin of 3.3% in 1Q16.
Productivity measures
Off-price retailers are implementing several initiatives to enhance their margins. For example, Burlington Stores aims to enhance its operating margin by optimizing markdowns and by improving the efficiency of the company's corporate and in-store operations.
The company also believes that its increasing size and West Coast buying office will help it to capture incremental buying opportunities and realize economies of scale in purchasing activities.
We'll discuss off-price retailers' store growth plans in the next part of this series.