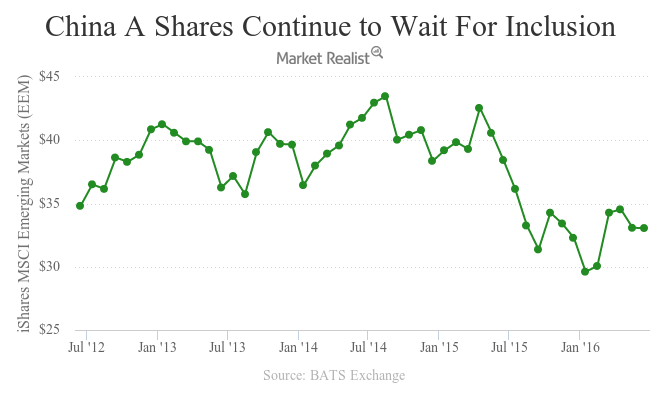 MSCI Not Including China A Shares in the Emerging Markets Index
By David Ashworth

Jun. 15 2016, Published 3:33 p.m. ET
China A shares continue to wait
In a major announcement yesterday, MSCI (MSCI) decided not to include China A shares in its Emerging Markets Index (EEM). This decision marked the third successive year of non-inclusion in the benchmark. The move had been hoped for by China's equity markets, as it would have provided a sentimental boost.
The Shanghai Stock Exchange Composite Index includes all listed stocks (A shares and B shares) on the Shanghai and Shenzhen stock exchanges. A-shares are shares denominated in the domestic currency, the renminbi. They're available only to local investors. On the other hand, B-shares are shares denominated in foreign currencies (ACH)(ATHM)(CEA) such as US dollars on the Shanghai Stock Exchange and Hong Kong dollars on the Shenzhen Stock Exchange. They're available to foreign investors.
[marketrealist-chart id=1376749]
Article continues below advertisement
China's efforts to address concerns
China's securities regulator had taken several measures to build confidence in the inclusion of its A shares in the index. These measures included reducing restrictions on capital flows across shares and cutting down on indiscriminate trading halts.
In a recent move, the People's Bank of China announced that China will give the United States a 250 billion yuan investment in the Renminbi Qualified Foreign Institutional Investor (or RQFII) quota for the first time to buy Chinese stocks (ASHR), bonds, and other assets. Though China has handed out similar quota allocations to countries like the United Kingdom, France, and Singapore, this is the biggest allocation provided to a single country after Hong Kong.
In the next part of this series, let's see why MSCI didn't include China's A shares this time.