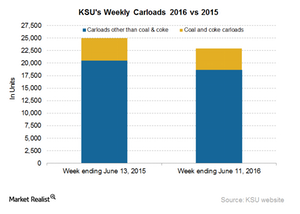 Kansas City Southern's Carloads, and What They Have to Do with Mexico
Kansas City Southern's carloads
In the week ending June 11, 2016, Kansas City Southern's (KSU) total railcars declined by 8.1% YoY (year-over-year), as compared to the corresponding week in 2015. In the reported week of 2016, KSU hauled ~23,000 railcars, as compared ~25,000 one year previously.
Carloads other than coal and coke registered a YoY fall of 9.3% in the reported week of 2016. But Mexican railroads reported a rise in carloads. Remember, KSU operates in Mexico through Kansas City Southern de Mexico, or KCSM.
We should also note that KSU's freight transportation prospects are also linked with the movement of overall Mexican railcar units. Kansas City Southern's rail traffic in the latest reported week was considerably higher than total North American railroad rail traffic.
Article continues below advertisement
Article continues below advertisement
Are coal carloads important to KSU?
Kansas City's coal and coke railcar units fell by 2.8% YoY in the week ending June 11, 2016. The same week, KSU hauled 4,300 units of coal and coke, as compared to 4,400 units one year previously.
We should note that utility coal, other coal, and petroleum coke accounted for 7.4% of KSU's total revenues in 2015, and utility coal and petroleum coke carloads represented ~11% of the company's total 2015 carloads. Though percentage-wise, this may not seem significant, it still holds importance, given the company's relatively small scale of operations.
KSU moves coal originating from the Powder River Basin in Wyoming and coal mined in the US Midwest. Coal producers operating in that region including as Alpha Natural Resources (ANR) and Peabody Energy (BTU) have anticipated weak coal shipments in 2016. Black Hills (BKH) also operates in the same region but doesn't produce coal commercially. Notably, BTU filed for Chapter 11 bankruptcy protection in the US on April 13.
Investors can opt for the iShares Global Industrials ETF (EXI) to gain exposure to the transportation sector. All major US railroads and airlines are included in the portfolio holdings of EXI.
Advancing and declining commodities
For the week ending June 11, 2016, the main commodity groups in the green zone included the following:
motor vehicles and equipment
grain mill products
food and kindred products
crushed stone, sand, and gravel
chemicals and allied products
Major commodities in the red zone included:
grain
stone, clay, and glass products
pulp, paper, and allied products
metals and products
Interested investors can invest in the Wisdom Tree Earnings 500 Fund ETF (EPS), whose portfolio includes all US-born Class I railroads.
Now let's take a look at Kansas City Southern's intermodal traffic.