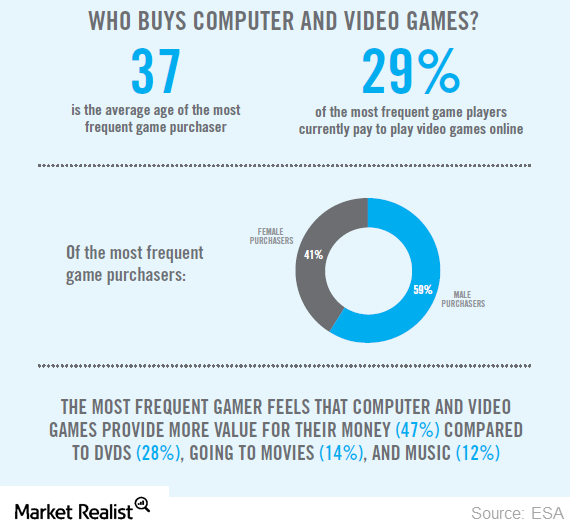 Is the Shift to Digital a Key Driver for the Gaming Industry?
Global video games revenue expected to reach ~$93.2 billion in 2019
According to a research report by PricewaterhouseCoopers (or PWC), revenue from global video games should grow at a healthy rate through 2019. Total video game revenue is expected to rise at a CAGR (compounded annual growth rate) of 5.7% and expected to reach ~$93.2 billion by 2019.
The research report states, "The peak of hardware sales for the latest generation of consoles is likely to be between 2017 and 2018, followed by a decline regardless of whether new consoles arrive."
Article continues below advertisement
Article continues below advertisement
The global distribution of digital games is expected to reach $12.9 billion in 2019 and should account for 19.6% of the industry's overall gaming revenue. However, PWC stated that the physical console market is also expected to drive revenues due to "the ability to trade in physical games, frequently higher digital pricing and a lack of network infrastructure will keep physical distribution relevant."
In the previous part of this series, we saw that Xbox One (MSFT) and the Japan-based (EWJ) PlayStation (SNE) reported a record for console sales in December 2015.
Social gaming revenue set to increase rapidly