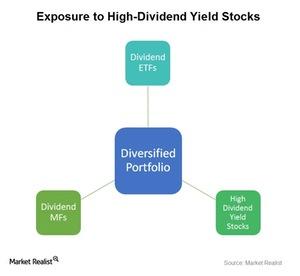 How to Gain Exposure to High-Dividend Yield Stocks
By Lynn Noah

Nov. 20 2020, Updated 5:24 p.m. ET
Exposure to high-dividend yield stocks through ETFs, mutual funds, and individual stocks
Dividend mutual funds pay out a dividend at regular intervals to their fund holders. They hold a basket of equities that pay dividends. These funds can be actively or passively managed. Actively managed funds generally charge more fees, whereas passive ones usually track a dividend index and have lower fees. The fund regularly rebalances to the appropriate allocation.
Dividend ETFs offer a number of attractive characteristics. They offer instant diversification as they hold the shares of several hundred companies across a number of industries. The fees of ETFs are lower than those of actively managed funds.
Investors can also build their own portfolio of 20–30 high-dividend yield stocks, but that requires a lot of research and time on the part of investors. Building a portfolio of individual dividend stocks allows investors to keep all of their dividend income without paying any fees.
Article continues below advertisement
Diversification and long-term approach
Nobody knows the exact timing of the next interest rate hike, how many increases there will be, and how long the higher rates will last. For this reason, it's not wise to try to time the Market by buying nothing but stocks that will benefit from rising rates. Instead, you can invest in a combination of dividend ETFs (SDY) (FVD) and individual stocks. You can also invest in mutual funds (PRDGX), which are actively managed. Dividend funds provide a number of benefits for investors seeking safe retirement income or long-term growth.
The reality is that an investor's mix of dividend funds and individual stocks almost completely depends on the investor's personal preferences, and there is no one-size-fits-all solution.
If you diversify your investments, some of your portfolio will benefit when rates rise, and others will benefit when rates fall again.