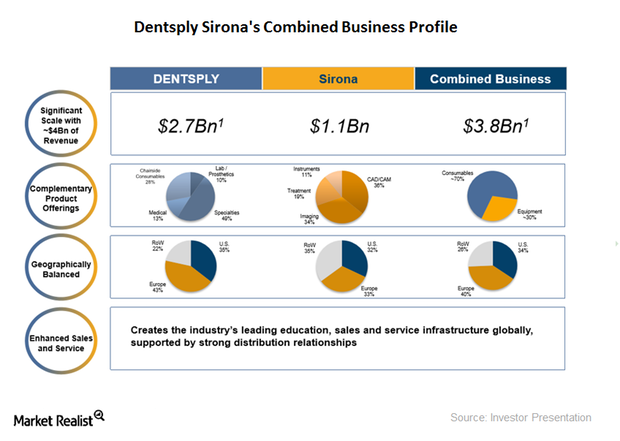 Introducing Dentsply Sirona, a Leading Dental Products Manufacturer
By Sarah Collins

Jun. 10 2016, Published 3:53 p.m. ET
Dentsply Sirona's company overview
Dentsply Sirona (XRAY) is the largest manufacturer of dental equipment and technologies in the world. The company was formed in February 2016 by the merger of Dentsply International and Sirona Dental Systems. It has its global headquarters in York, Pennsylvania, and its international headquarters in Salzburg, Austria.
Dentsply Sirona operates across more than 40 countries, with sales presences in more than 120 countries and over 15,000 employees. The company's major competitors include Zimmer Biomet Holdings (ZBH), Integra LifeSciences Holdings (IART), and Align Technology (ALGN).
Investors seeking exposure to Dentsply Sirona can invest in the Vanguard Growth ETF (VUG), which has ~0.17% of its total holdings in XRAY.
Article continues below advertisement
A brief history of Dentsply Sirona
On February 29, 2016, the merger between two strong companies in the dental solutions market, Dentsply International and Sirona Dental Systems, created Dentsply Sirona. Dentsply started as an artificial teeth manufacturer called Dentists' Supply Company in 1899, founded by four businessmen from New York. Sirona Dental Systems was founded in Germany in 1877.
Dentsply introduced a number of innovative products and established successful brands over the years, including better-fit dentures, custom-sized teeth dependent on face shape, and Trubyte teeth. During the 1950s and 1960s, the company developed groundbreaking technologies such as Dentsply Cavitron and Neolux.
In 1969, the company changed its name to Dentsply International. During the 1960s and 1970s, Dentsply made a series of key acquisitions, including the acquisitions of LD Caulk, Ransom, Randolph, and Amalgamated Dental Industrial. These acquisitions helped the company to expand into the international market.
In 1993, Dentsply merged with Gendex and started trading as a public company under the ticker symbol XRAY. In 2011, the company built and expanded its implant and healthcare business units with its acquisition of Astra Tech, the biggest acquisition in Dentsply's history until then.
Sirona Dental Systems was started as RGS by a mechanical engineer at the University of Erlangen. The company manufactured electromedical and physical apparatus. In 1887, the company developed the first electric-powered dental drill.
In 1925, Siemens and Halske bought a majority stake in RGS. In 1956, Siemens' Sirona dental unit was launched. In 1997, Siemens sold its dental solutions division, which was then established as Sirona Dental Systems.
In 2006, the company started trading on NASDAQ. The company has made some significant innovations and has launched some very successful products over the years.