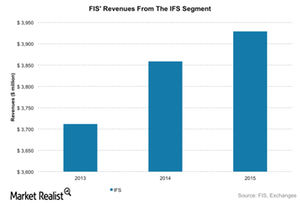 Inside FIS's Integrated Financial Solutions Segment
Segment overview
Fidelity National Information Services' (FIS) Integrated Financial Solutions (IFS) segment caters to North American regional and community banks. This segment is the largest contributor to the company's total revenues (~60%). In 2015, revenues from IFS increased by 2% to $3.9 billion. This increase was primarily attributable to incremental revenues from the acquisition of Reliance in 2014, card production activities, and growth in digital and risk solutions.
Article continues below advertisement
FIS operates on multi-year processing contracts, which generates a highly predictable and recurring revenue stream. In 1Q16, 87% of this segment's revenues were recurring. The predictable nature of cash flows from this segment enables FIS to channelize its investments in innovations, product integration, compliance, information, and security.
Sub-groups
IFS provides transaction and account processing solutions, payment solutions, digital channels, risk and compliance solutions and channel solutions services. It operates under three key functional sub-groups:
Banking and Wealth solutions
Payments
Corporate and Digital solutions
Article continues below advertisement
Service offerings of the IFS segment
The Banking and Wealth Solutions sub-group offers the following services:
core banking solutions—software applications designed to run banking processes such as deposit and lending systems, customer management, and other central management systems
image and output solutions—services that provide financial institutions with the technology required to capture data from checks, transaction tickets, and other items
enterprise governance, risk, and compliance—services that include know-your-customer, new account opening, account and transaction management, fraud management, and collections
wealth management—services that include solutions for client acquisition, transaction management, trust accounting, and record keeping
FIS's Payment Solutions sub-group provides the following services to clients:
issuer services
network services, settlement, and card management solutions for card issuers
prepaid services, end-to-end solutions for development, and processing and administration of stored-value programs
loyalty solutions and value-added loyalty program management
The Corporate and Digital sub-group offers the following services to clients:
Internet banking and mobile banking solutions, which enable clients to manage banking and payments through the Internet, mobile devices, accounting software, and telephone
bill payment through PeoplePay, which provides an all-in-one solution to meet billers' needs for the distribution and collection of bills
treasury solutions, which include cash management services and multi-bank collection and disbursement services, addressing the needs of corporate clients
corporate liquidity, which helps companies increase their visibility to cash, reduce risk, and improve communication and response time among buyers, suppliers, banks, and other stakeholders
Notably, the main competitors to this segment faces include Fiserv (FISV) and Jack Henry & Associates (JKHY). Investors interested in diversified exposure to these stocks can invest in the SPDR S&P 500 ETF (SPY) or the SPDR Technology ETF (XLK).
Now let's take a closer look at FIS's Global Financial Solutions Segment.