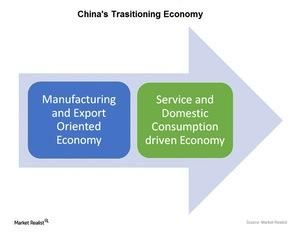 IMF Provides a Positive Assessment of China's Economy
Chinese economy is transitioning
In a press conference on June 14 on its annual Article Four Staff Report, the IMF (International Monetary Fund) provided a positive assessment of China's economy. David Lipton, IST deputy managing director of IMF, said that "We think that the process of rebalancing the economy with growth in the household sector, household income and consumption, and downsizing and rightsizing of older sectors that are bound to be not as important in the future. That's a process that's underway,"
Article continues below advertisement
According to the report, China (ASHR) (FXI) is in the middle of a transition process from being a manufacturing and export-based economy to a nation that would be driven by services and domestic consumption. As a result, the moderate slowdown is a natural process. The report said that the overall reforms across key areas in the economy have been "impressive."
Tackling rising debt levels
Global investors are worried that Beijing's continued efforts to stimulate economic activity and hit growth targets are driving debt up to unsustainable levels. This increase risks for the country's banking system.
The IMF assessed the country's current corporate debt level to be ~145% of the gross domestic product—its seems too high to be safe. It could threaten hard-earned recent positive growth outlook. Lipton thought that Chinese officials are well aware of the rising debt burden. They're actively taking steps to control it.
Article continues below advertisement
China's state planning official said at a briefing on issues related to China's rising debt levels, "China's debt defaults will not pose a systemic risk as long as economic growth remains within a reasonable range. The government also has room to raise debt levels, which will help lower corporate leverage."
Long-term investment approach
China has a massive infrastructure. With the change of focus, China's consumption, technology (YOKU) (LNVGY), and healthcare (CBPO) sectors are expected to do well in the long run. So, investors are advised to have a long-term perspective while investing in China. Innovation is key to China's future growth. Indigenous innovation in China and the G7 countries show that China already ranked fourth in the 1990s. In the next decade, when the United Kingdom and Canada fell back, China moved up to second place—it wasn't far behind the US. So, China could become a major source of innovation for the global economy. China provides an invaluable opportunity in the current times.
For more updates and analysis on mutual funds, please visit Market Realist's Mutual Funds page.