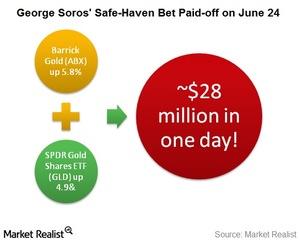 Once Again, Soros Makes Money off the UK's Woes
By Surbhi Jain

Dec. 4 2020, Updated 10:52 a.m. ET
Is another Soros Moment in the making?
The world is still not past the latest "Soros Moment." But billionaire activist investor George Soros seems to be on track to create yet another. Back in the nineties, Soros massively shorted the British pound. In 1992, when the pound was forced to exit the ERM (European Exchange Rate Mechanism), the currency's value fell extraordinarily, Soros walked away with $1 billion on his trade and left the Bank of England broke.
To date, Soros's move in 1992 is referred to as the "Soros Moment."
Article continues below advertisement
But on June 23–24, 2016, we saw another such event that made the market mogul richer while the pound declined to 30-year lows. Four days before the UK (EWU) decided to leave the European Union (VGK), Soros warned the markets of a "Black Friday" and a crash in the pound. And it appears that things, in fact, panned out the way Soros predicted them.
A Soros trade: gain of $28 million in a single day
Recently, Soros has been piling up on gold. In 1Q16, Soros loaded up his portfolio on Barrick Gold (ABX), the biggest gold producer in the world, and on a gold-tracking exchange-traded fund, the SPDR Gold Shares (GLD). His firm, Soros Fund Management, is the eighth-largest investor in ABX, with about 19.4 million shares (worth about $264 million), constituting about 6% of the fund's portfolio.
The fund also has a good allocation to GLD, of which it holds over 1 million shares (worth over $123 million). GLD rose by 4.9% on June 24 while ABX gained 5.8%. The math adds up to a good $27.9 million in gains ($6.2 million from Soros's GLD investment and $21.7 million from his ABX investment) between June 23 and June 24 alone.
Soros has gotten wealthier while those exposed to the British pound can be heard bemoaning their losses. News of the UK's "Brexit" from the EU started the UK's currency bleeding, while gold, silver, and bitcoin jumped high on safe harbor bets. Notably, the pound declined by 10% against the US dollar (UUP).
Meanwhile, other funds reaped gains from shorting the pound as well. Continue to the next part for more of this discussion.