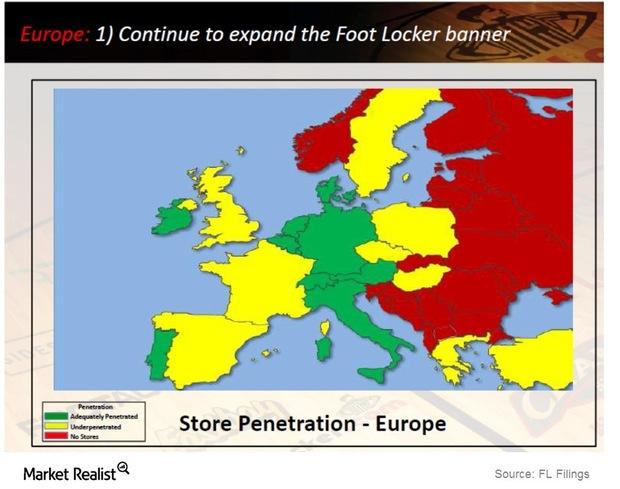 Why Is Foot Locker Eyeing Higher Growth in Europe?
Sales outside the United States
Foot Locker (FL) made about 28.4% of its sales, or $2.1 billion, from outside the United States in fiscal 2016. The retailer has the most exposure to Germany, France, Canada, and Italy in its international operations.
Article continues below advertisement
Article continues below advertisement
Foot Locker's European business
Europe is the most important market for Foot Locker outside the United States. While the company doesn't break down sales numbers by geographic region, most of Foot Locker's international stores are located in Europe. Of the 3,383 stores in its retail fleet at the end of fiscal 2016, the company owned and operated 606 Foot Locker stores and 18 Kids Foot Locker stores in Europe.
In addition, Foot Locker (FL) has tried to cement its position in the European market with its $81 million acquisition of the Runners Point Group in July 2013. The multibanner purchase includes Runners Point and Sidestep stores as well as e-commerce websites. Numbering 211 at the end of fiscal 1Q17, the stores are located in Germany, Austria, Holland, and Switzerland.
In fiscal 2016, the retailer reported double-digit comps (comparables) growth (IVW) in almost every market in Europe and in most categories.[1. in constant-currency terms] Growth was spurred by the strong performance of global brands such as Nike (NKE), Adidas (ADDYY), and Puma (PMMAF).
However, Foot Locker believes that significant expansion opportunities remain in the European market. The retailer's store footprint is either underrepresented or it has no stores at all in certain countries, according to the company.
Foot Locker hopes to expand its Foot Locker, Kids Foot Locker, Runners Point, and Sidestep banners to more countries. It's also looking at consolidating its e-commerce websites under various banners. The company is targeting localized product offerings, particularly in categories such as kids, women, apparel, and running.