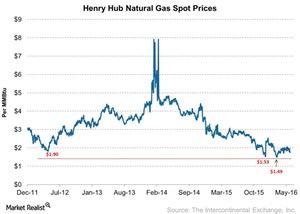 What's the Forecast for Natural Gas Prices in 2016 and 2017?
By Adam Jones

Jun. 6 2016, Updated 1:06 p.m. ET
Natural gas
Natural gas is the key raw material for the production of nitrogen fertilizers such as ammonia and urea. PotashCorp estimates that natural gas accounts for 70%–85% of the cost of production for ammonia. Due to the abundant availability of natural gas, the nitrogen fertilizer industry is fragmented among several producers. Therefore, natural gas prices have a significant impact on nitrogen fertilizer producers.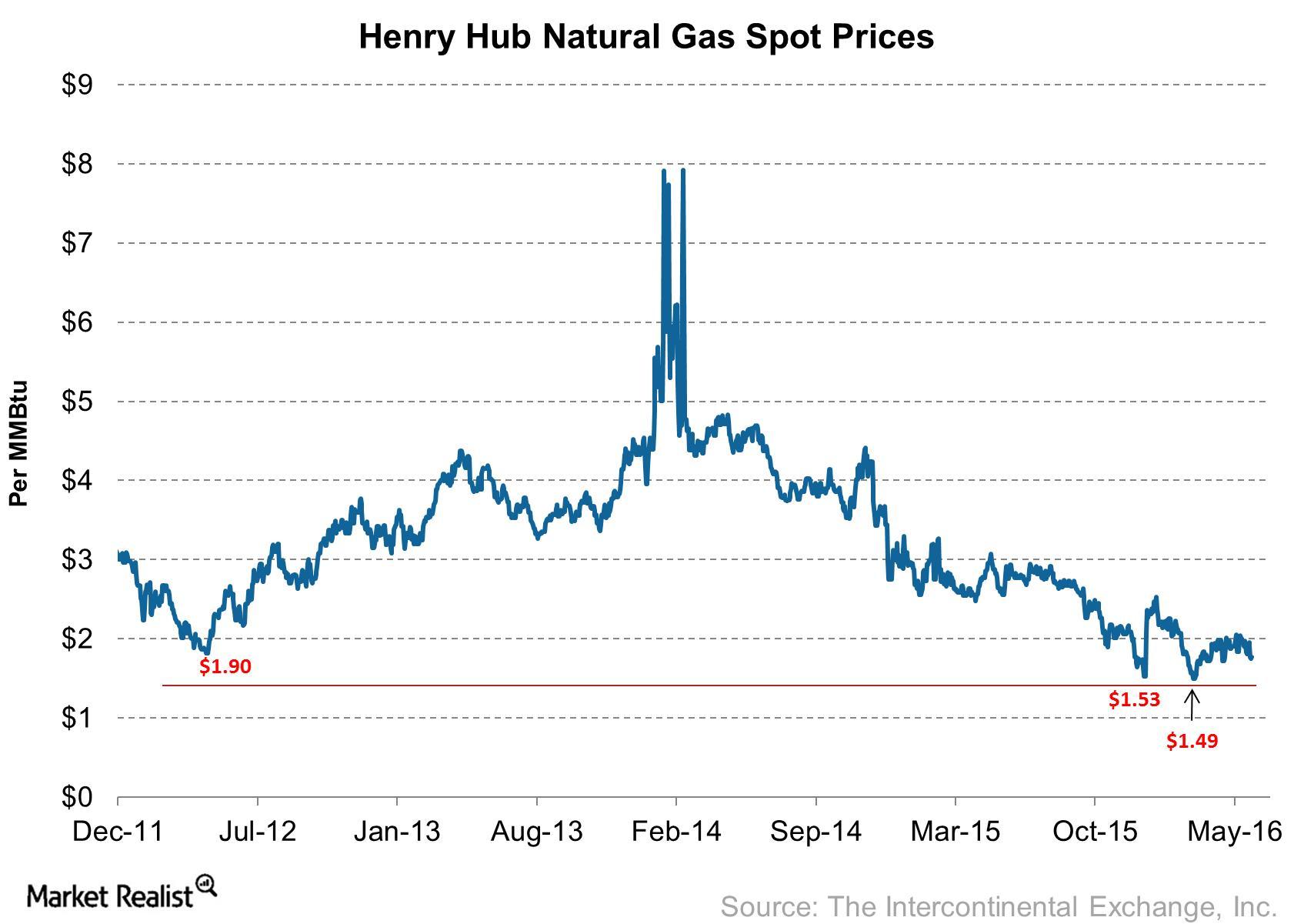 Article continues below advertisement
Prices fall
In the week ended May 27, 2016, natural gas prices fell 2.1% to $1.7 per MMBtu (British thermal units in millions) from the previous week's $1.81 per MMBtu. These figures are based on the spot prices for natural gas traded at Henry Hub, where gas prices hit a low of $1.49 per MMBtu six weeks ago. However, fertilizer producers such as CF Industries (CF), PotashCorp (POT), Terra Nitrogen (TNH), and CVR Partners (UAN) may mitigate the natural gas price fluctuations through futures contracts.
Rising natural gas prices also affect the iShares US Basic Materials ETF (IYM), which invests in some of the above companies. IYM invests about 48% in chemical companies.
Natural gas price forecast
For the week ended May 27, the EIA (U.S. Energy Information Administration) maintained its 2016 forecast for average natural gas prices at Henry Hub to about $2.25 per MMBtu. This forecast comes on the back of 2016's natural gas inventories, which are higher than they were in previous years. The EIA maintained its natural gas price forecast for 2017 at $3.02 per MMBtu.
With a large corn acreage expected in 2016, which puts growers' margins at risk, there could be price pressure on fertilizers as growers try to trim their production costs. Continue to the next part of this series for a look at prices of coal, which is an alternative input material for nitrogen fertilizer production.