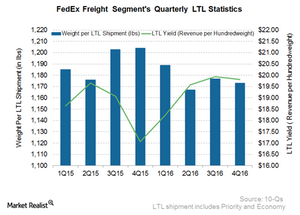 FedEx Freight: Higher Demand from Large Customers
FedEx expects FedEx Freight revenues to rise in fiscal 2017.
FedEx Freight revenues in 4Q16
In the previous part, we looked at the FedEx Ground segment's 4Q16 revenues. In this article, we'll analyze the FedEx (FDX) Freight segment. FedEx Freight revenues rose by 2.3% from $1.56 billion in 4Q15 to $1.6 billion in 4Q16. Robust and sustained shipment volumes from large customers boosted FedEx Freight revenues in 4Q16.
Although the overall segmental revenue increased, the LTL (less-than-truckload) revenue tanked. This was due to reduced fuel surcharge revenues and a lower weight per package. The revenue per shipment fell by 2.1% due to the lighter shipments.
Article continues below advertisement
Article continues below advertisement
Segment overview
The FedEx Freight segment offers LTL services across all lengths of haul. This segment's revenue includes revenues from FedEx Custom Critical services, which provide time-sensitive and critical shipments in the United States.
In 4Q16, FedEx announced the nationwide launch of the FedEx Freight Box. According to the company, this product eases the hassles of LTL shipments. The Freight Box will come in two sizes, and its pricing structure will be distance based. This structure allows customers to bypass the complexities of the LTL industry's pricing structure.
Outlook
FedEx expects FedEx Freight revenues to rise in fiscal 2017. A better yield due to profit improvement measures, coupled with reasonable volume growth from small and medium customers, is expected to boost revenues in this segment.
Investing in ETFs
The transportation sector's performance is a prime indicator of economic activity for any nation. Investors who want to invest in US transportation stocks, which include airlines (DAL), railroads (CSX), trucking (JBHT), and other logistics companies (UPS), can opt for the First Trust Industrials/Producer Durables AlphaDEX ETF (FXR). Major US airlines and prominent railroads make up 7.9% and 4.8% of FXR, respectively. In the next article, we'll look at FDX's overall operating margins and segmental margins.