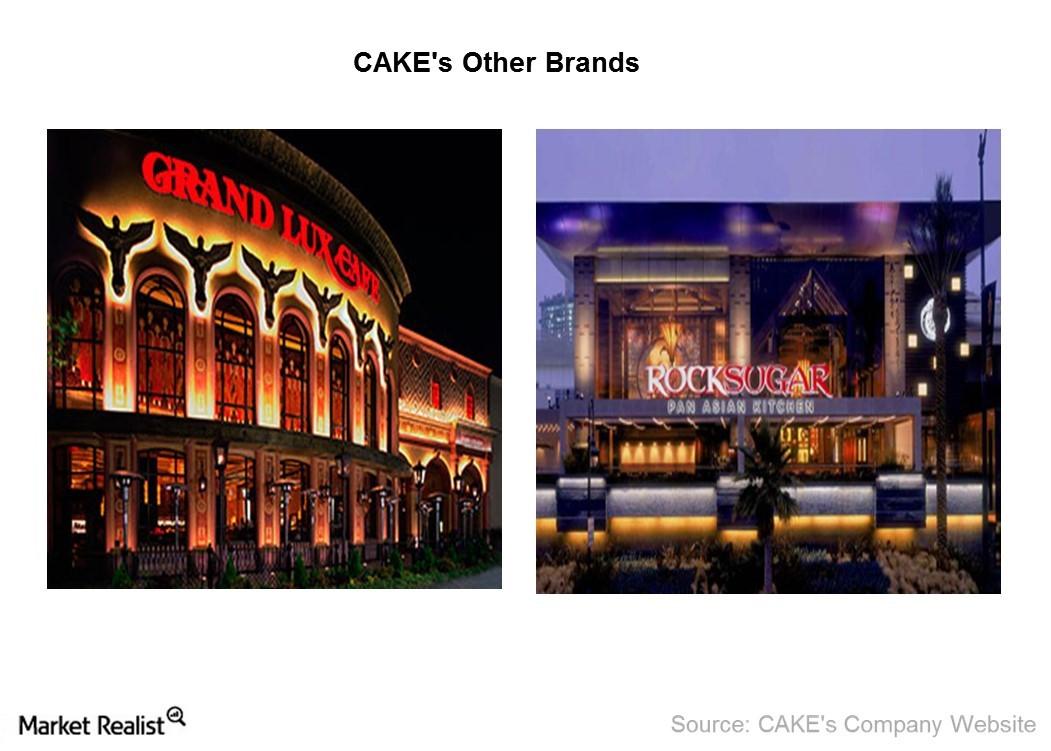 Exploring The Cheesecake Factory's Other Brands
Grand Lux Cafe
The Cheesecake Factory (CAKE) created the Grand Lux Cafe brand at the request of Venetian Resort Hotel Casino in Las Vegas during the development of its property in 1999.
Later, the company expanded the brand, increasing its restaurant count to 12 by the end of 2015. In 2013, the company closed three underperforming Grand Lux Cafes.
With an upscale casual dining concept, the Grand Lux Cafe offers 150 classic American dishes and international favorites, including appetizers, pasta, seafood, steaks, chicken, burgers, salads, specialty items, and desserts.
Each Grand Lux Cafe boasts an on-site bakery that produces signature, made-to-order desserts and a full-service bar. In the last three years, alcoholic beverage sales formed 17% of the restaurant's sales.
Article continues below advertisement
RockSugar Pan Asian Kitchen
In 2008, The Cheesecake Factory opened the RockSugar Pan Asian Kitchen, which featured a Southeast Asian menu, in Century City, California. The restaurant offers 75 dishes inspired by countries such as Thailand, Vietnam, Malaysia, Singapore, Indonesia, and India.
Some of the restaurant's menu offerings include lacquered BBQ ribs, Thai basil cashew chicken, ginger fried rice, and crispy samosas. Each RockSugar Pan Asian Kitchen features a full-service bar, where extensive wine and exotic cocktails are offered. The restaurant also offers freshly made desserts that infuse Asian-influenced items with traditional French flair.
You can gain exposure to CAKE and other restaurant companies by investing in the iShares S&P Mid-Cap 400 Growth ETF (IJK). IJK has invested 0.87% in Domino's Pizza (DPZ), 0.72% in Panera Bread (PNRA), and 0.57% in Dunkin' Brands (DNKN).
In the next article, we'll discuss CAKE's revenue over the last five years.