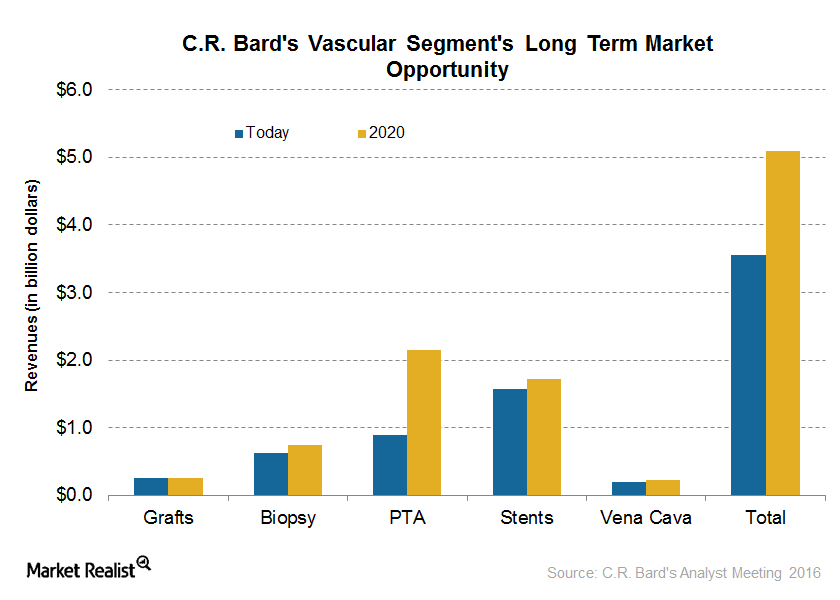 Dissecting C. R. Bard's Vascular Business Segment
By Sarah Collins

Jun. 2 2016, Updated 9:07 a.m. ET
An overview of C. R. Bard's Vascular segment
C. R. Bard's (BCR) Vascular segment contributes around 28% of the company's total revenues. It is the company's largest segment, with the highest growth rate. The segment reported a 5% increase in net sales in 2015. This growth was driven primarily by strong endovascular product sales and a steady presence in the US market. The company sold its electrophysiology products to Boston Scientific in November 2013, retaining only the guidewire and temporary pacing electrode product lines. C. R. Bard was the first company to receive FDA approval for a DEB (drug-eluting balloon), Lutonix, in October 2014.
Article continues below advertisement
Key growth drivers
While C. R. Bard's Vascular segment has a strong market in the United States, it also has significant growth opportunities in international markets. In 2015, US net sales increased by approximately 7%, whereas international sales were flat due to the impact of foreign currency headwinds. However, on a constant currency basis, international revenues increased by ~13%.
Future growth of C. R. Bard's Vascular segment is expected to be driven primarily by PTA (percutaneous transluminal angioplasty) products, followed by stents, biopsy products, grafts, and vena cava products. The long-term growth trends are shown in the graph above.
Whereas the endovascular subsegment grew by ~6% in 2015, graft sales declined by 6% on a reported basis. While endovascular sales were primarily driven by PTA balloon catheter sales, stent sales declined. These trends are expected to continue to impact the segment's future sales.
Major competitors
Though the Vascular segment is C. R. Bard's highest growth segment, the company faces stiff competition from major market players Medtronic (MDT), Boston Scientific (BSX), and Abbott (ABT). For diversified exposure to C. R. Bard, investors could opt for the iShares Russell 1000 Growth ETF (IWF). C. R. Bard accounts for 0.15% of IWF's total holdings.