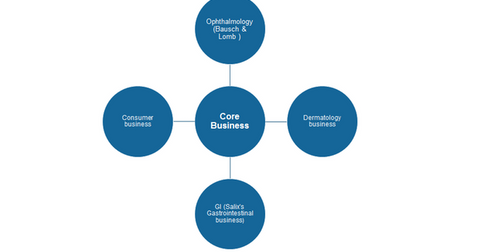 A Close Look at Valeant's Core Business
By Jillian Dabney

Nov. 20 2020, Updated 4:48 p.m. ET
Can core business fuel Valeant's growth?
Valeant Pharmaceuticals International's (VRX) core business includes its dermatology and consumer franchise business, along with the acquired Bausch + Lomb and Salix Pharmaceuticals businesses. For details on VRX's business segments, you can refer to Valeant's Performance across Its Business Segments.
Article continues below advertisement
Dermatology business
Major drugs in Valeant's dermatology portfolio include Jublia, Luzu, Solodyn, Elidel, Onexton, and Acanya. Following Valeant's termination of its relationship with Philidor, high-margin dermatology drugs have suffered significantly. Sales for Jublia, its key drug, have plunged 37% during the first three months of 2016 against 1Q15 sales.
Valeant's plan to fix its dermatology portfolio can be found in detail at Has Valeant Gone Bottom Fishing? and Valeant's Dermatology Portfolio: A Key Factor for Recovery?
Salix portfolio
Salix's GI (gastrointestinal) business isn't performing in line with Valeant's original expectations. It has more than 20 marketed products, including Xifaxan, Uceris, Apriso, Glumetza, and Relistor. Further details on Valeant's core GI portfolio can be found at Will Valeant Be on Track in 2016 with Salix Resuming Growth?
Article continues below advertisement
Ophthalmology portfolio
Valeant's ophthalmology portfolio includes Targretin and Xenazine. The portfolio also includes three late-stage development products. With the launch of new drugs, the portfolio should grow in the near term.
Consumer business
Valeant's consumer business has received Walmart's Supplier of the Year Award. It's a cash cow for Valeant. Ocuvite/Preservision, ReNu, CeraVe, Biotrue MPS, Biotrue (one day), and Boston Solutions are the consumer business or OTC (over-the-counter) drugs that fall under Valeant's top 30 sales-generating products. The portfolio holds 19 pipeline candidates. Of those, ten are in late-stage development.
Along with increased investments in these core businesses, Valeant plans to maintain its neurological and other business growth so generated cash can be used for debt repayment. In the next part, we'll look at Salix and Valeant's GI portfolios.
Some investors choose to invest in the VanEck Vectors Pharmaceutical ETF (PPH) to benefit from the potential upside in Valeant. Valeant holds 1.6% of PPH's total assets. Pfizer (PFE), Bristol-Myers Squibb (BMY), and AbbVie (ABBV) have holdings of 5.8%, 5.5%, and 5.3%, respectively, in the fund's total assets.