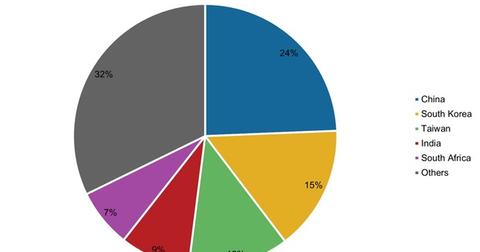 What China Has to Do to Get in the MSCI Emerging Markets Index
By David Ashworth

Updated
China has come a long way
Remy Briand, MSCI's managing director and global head of research, praised steps taken by securities regulators and other officials in China regarding the equity markets. He said, "There have been significant steps toward the eventual inclusion of China A shares in the MSCI Emerging Markets Index."
Regarding those measures, he added, "They demonstrate a clear commitment by the Chinese authorities to bring the accessibility of the China A shares market closer to international standards. We look forward to the continuation of policy momentum in addressing the remaining accessibility issues."
Article continues below advertisement
The pie chart above shows the country-level exposure of the MSCI Emerging Markets Index as of May 2016. The exposure to China (YINN)(MCHI) doesn't include the A shares listed on its exchanges. It includes stocks like China Mobile (CHL) and Alibaba Group Holding (BABA) as well as stocks like Taiwan Semiconductor Manufacturing (TSM).
Steps
MSCI outlined the four issues that need to be resolved in order for China's A shares to be included in its Emerging Markets Index. It detailed what international investors thought about the steps regarding the four issues.
Beneficial ownership: This issue has been resolved, according to MSCI, as most international institutional investors are happy with the clarification released by China's securities market regulator in May 2016.
Effectiveness of the QFII policy changes affecting accessibility and capital mobility: Though policy changes have been made for QFIIs (Qualified Foreign Institutional Investors), international investors need more time to see the impact of those changes. There seem to be some bottlenecks, like long waits for quota allocation and the inability to benefit from daily capital repatriation.
Implementing measures preventing widespread voluntary suspensions of trading: This is possibly the most vital issue among the four. International institutional investors wanted a change in the arbitrary suspension of trading. Though the Shanghai and Shenzhen stock exchanges have taken measures regarding this issue, investors want to see how these steps work out over time.
Pre-approval requirements imposed by local Chinese stock exchanges: China's stock exchanges restrict financial products internationally if these products are linked to indices that include China A shares. Institutional investors believe this issue remains unaddressed.
It seems like MSCI is just being cautious about including A shares in its Emerging Markets Index. It's just a matter of time before we see those stocks as part of the index.
Apart from China's A shares, MSCI announced a few other changes and status quos. Let's look at them in the next part of this series.