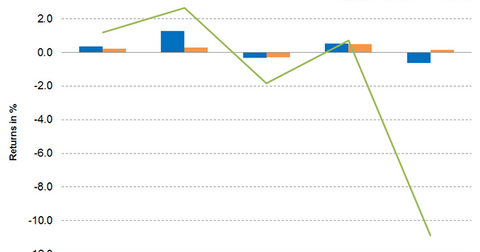 What Caused Alexion Pharmaceuticals' Fall?
By Peter Neil

Updated
Alexion falls
Alexion Pharmaceuticals' (ALXN) stock fell for much the same reason as Biogen's (BIIB) did. Alexion Pharmaceuticals was the second-worst performing stock within the Health Care Select Sector SPDR ETF (XLV), falling by 10.9% on June 7, 2016.
The stock fell on the clinical trial failure of the Phase 3 REGAIN study of its drug Eculizumab. Alexion traded ~5.6 million shares on the day compared to its three-month average trading volume of ~1.6 million shares per day.
In a press release, Alexion Pharmaceuticals announced that "topline results from the REGAIN study, a Phase 3 registration trial of eculizumab (Soliris®) in patients with refractory generalized myasthenia gravis [gMG]."
Article continues below advertisement
The release said, "Refractory gMG is an ultra-rare segment of MG—a debilitating, complement-mediated neuromuscular disease—in which patients have largely exhausted conventional therapy and continue to suffer profound muscle weakness throughout the body, resulting in slurred speech, impaired swallowing and choking, double vision, upper and lower extremity weakness, disabling fatigue, shortness of breath due to respiratory muscle weakness, and episodes of respiratory failure."
The release continued, "In the study, the primary efficacy endpoint of change from baseline in Myasthenia Gravis-Activities of Daily Living Profile (MG-ADL) total score, a patient-reported assessment, at week 26, did not reach statistical significance (p=0.0698) as measured by a worst-rank analysis."
Alexion Pharmaceuticals closed at $138.13 and was trading below its 20-day moving average on June 7. The stock has fallen by 27.6% on a year-to-date basis. Approximately 2.6% of Alexion's outstanding shares are in short positions.
As at its closing on June 7, Alexion was trading at a 2016 forward price-to-earnings (or PE) multiple of ~27.30x. Some of its peers such as Bristol-Myers Squibb (BMY), Pfizer (PFE), and Perrigo (PRGO) are trading at 2016 forward PE multiples of 28.60x, 14.30x, and 12.0x, respectively.
Alexion has a book value of $35.96 per share. At its current price, the stock is trading at a price-to-book value of ~3.80x.
Analysts' expectations and recommendations
Analysts have given Alexion Pharmaceuticals a 12-month target price of $187.60, representing a return potential of ~35.8% from its current price. Fourteen analysts recommend "buys" on the stock, seven analysts recommend "holds" on the stock, and no analysts recommend "sells" on the stock.
Alexion Pharmaceuticals has a weight of 1.3% in XLV's portfolio.