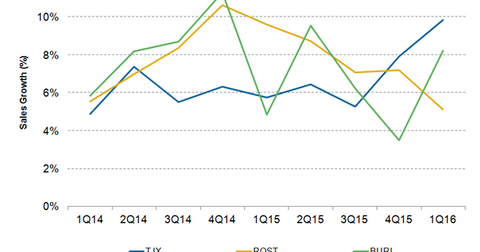 Can Off-Price Retailers Sustain Their Strong Sales Growths?
By Sirisha Bhogaraju

Jun. 17 2016, Published 10:44 a.m. ET
Strong business model
Off-price retailers TJX Companies (TJX), Ross Stores (ROST), and Burlington Stores (BURL) delivered strong sales growths in 1Q16. These off-price retailers performed better than major department stores such as Macy's (M) and Kohl's (KSS).
Besides the intense competition from off-price retailers, department stores are also being adversely impacted by strong online retailers such as Amazon (AMZN).
Off-price retailers sell their merchandise at deep discounts compared to similar merchandise sold by department stores.
Article continues below advertisement
Sales growth in 1Q16
In 1Q16, TJX Companies reported sales growth of 9.9% and same-store sales growth of 7%, driven by strong consumer traffic. TJX Companies is the largest off-price retailer in the United States based on sales. For a business overview of TJX Companies, read TJX Companies: A Tour of the Retail Powerhouse.
Ross Stores reported sales growth of 5.1% in 1Q16 and a same-store sales growth of 2%. However, the company missed the consensus sales' estimate. Ross Stores' 1Q16 sales were adversely impacted by merchandising execution issues in the ladies apparel category.
Burlington Stores delivered revenue growth of 8.2% in 1Q16, driven by same-store sales growth of 4.3% and a $52.6 million in contributions from its new and non-comparable stores.
TJX Companies and Ross Stores together account for 3.2% of the Consumer Discretionary Select Sector SPDR ETF (XLY).
High-end department store Nordstrom (JWN), which also operates off-price Nordstrom Rack stores, delivered lower-than-expected sales growth (including credit card revenues) of 1.1% in 1Q16. The 1Q16 sales of its off-price Nordstrom Rack stores rose by 7.6%.
Consumers are still resorting to bargain-hunting at off-price stores. This is adversely impacting department store sales. Macy's and Kohl's reported sales falls of 7.4% and 3.7%, respectively, in 1Q16.
Looking ahead to 2Q16
For 2Q16, TJX Companies expects its sales to be in the $7.7 billion–$7.8 billion range, compared to sales of $7.4 billion in 2Q15. This sales guidance assumes a -1% impact due to currency headwinds. The company expects its comparable same-store sales to rise in the 2%–3% range.
Ross Stores has issued conservative guidance for its 2Q16 sales, given the uncertain retail environment. The company expects its overall sales to rise in the 4%–5% range. Ross Stores expects its same-store sales for 2Q16 to rise in the 1%–2% range, compared to 4% growth in 2Q15.
Burlington Stores expects its 2Q16 same-store sales to rise in the 2.5%–3.5% range compared to their rise of 5.6% in 2Q15.
We'll discuss the inventory management of off-price retailers in the next part of this series.