Yield for Yields! Where Can You Find Yields Today?
Not only are European stocks cheaper than American ones, they also offer more attractive dividend yields.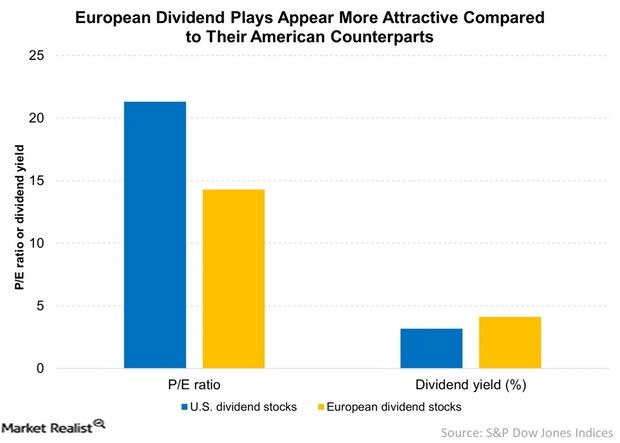 Where does this leave investors?
First, when considering the valuations on yield names, it is necessary to take into account the overall yield environment. As long as yields remain near historical lows, relative valuations are likely to stay elevated relative to the pre-crisis norm.
Second, certain sectors are more reasonably priced than others. For example, many of the dividend payers in Europe currently look much cheaper than their U.S. counterparts.
Bottom line: given the expectation that yield will remain low for long, the question of what price to pay for yield will be vexing investors for some time to come.
Article continues below advertisement
Article continues below advertisement
Market Realist – Where can you find yields today?
The graph above compares the current valuations and the dividend yields of US (DVY) and European (FDD) dividend stocks. Not only are the European stocks cheaper than the American ones, they also offer more attractive dividend yields. Currently, American dividend stocks are trading at 21.3x earnings, while their European counterparts are trading at 14.3x earnings. Their dividend yields are 3.2% and 4.1%, respectively. About 40% of European dividend stocks belong to the financial sector.
With most income-yielding alternatives already expensive, investors are likely to pay a high price for yield. Even high-yield bonds (HYG) are offering relatively low yields, while risk remains high. In other words, investors have to settle for lower risk-adjusted returns.
While Treasuries (TLT)(TLH) are offering historically low yields, they are attractive compared with some of the other sovereign bonds, as we saw in the first part of this series. This could lead to higher demand from foreigners, which could drive yields even lower.