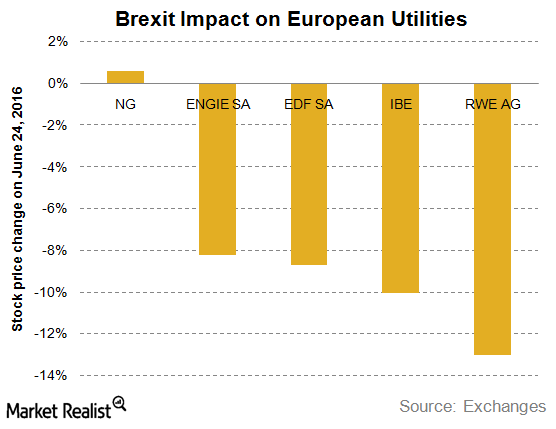 Brexit's Impact: European Utilities Nosedive, National Grid Gains
Brexit's impact on European utilities
The struggling European utilities sector encountered another obstacle in the form of Brexit. Upcoming policy changes will pave the way for them in the future. European utility giants reacted negatively to the referendum result on June 24, 2016. Market observers forecast growing uncertainty in the Market, which could damage investor confidence in the short term.
The Brexit result positively impacted the shares of the United Kingdom's National Grid. The company closed the day at a rise of 0.6%.
National Grid operates in the United Kingdom as well as in the United States. Unlike PPL Corporation (PPL), National Grid is expected to see positive results from the strength in the US dollar due to its dollar-denominated earnings from the United States.
Article continues below advertisement
Brexit: A challenge for UK nuclear
French nuclear energy giant Électricité de France registered an 8.5% fall in response to the Brexit result. Though EDF's management clarified that Brexit wouldn't have any significant impact on EDF, doubts have been raised by experts considering EDF's ongoing 18 billion British pound Hinkley Point nuclear power project in the United Kingdom.
Meanwhile, PricewaterhouseCoopers foresees a substantial impact on the United Kingdom's nuclear industry, as decarbonizing and securing energy supply will be a serious challenge for UK utilities without European sources.
European utilities (EXH9) (STU) have been struggling in the last half-decade or so due to grounded power prices. Rapidly changing regulatory policies and increasing renewables penetration added to their concerns. Many European utilities, including RWE AG (RWE) and Engie (ENGI), reported massive writedowns last year.
The iShares S&P Global Utilities Sector ETF (JXI) posted a strong fall after the Brexit result. JXI has 59% exposure to US utility companies and 32% exposure to European ones.