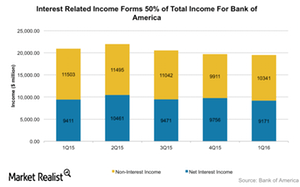 Bank of America and Wells Fargo's Interest Rate Sensitivity
By Rebecca Keats

Jun. 10 2016, Published 12:14 p.m. ET
Interest rate sensitivity
A 100-basis-point change in interest rates would lead to a $6 billion increase in Bank of America's (BAC) net interest income. Net interest income accounts for ~50% of the company's total income. It's one of the largest sources of Bank of America's revenue.
For Wells Fargo (WFC), the net interest margin would rise by 5–15 basis points if the yield curve shifted upward by 100 basis points. Net interest income accounts for 53% of its total income.
Article continues below advertisement
Loan portfolios
Notably, Wells Fargo has the largest loan portfolios in the financial sector (XLF). In 1Q16, had a loan portfolio worth $947 billion. In comparison, Bank of America had a loan portfolio of $901 billion. JPMorgan Chase (JPM) and Citigroup (C) had loans of $847 billion and $619 billion, respectively.
With the Fed deciding to keep the federal funds rate unchanged during its March meeting, US banks' margins have come under pressure. Banks earn lower returns on their assets as well as lower interest-based income in a low rate environment. US banks started the year expecting four rounds of rate hikes during the year. Higher interest rates lead to higher net interest income for banks. This results in higher profitability margins. However, the Fed retreated from its expected interest rate hikes. This led to more margin pressures. The Fed's decision to hike interest rates depends on improving labor market conditions. The disappointing jobs report released on June 3 added more uncertainty regarding a rate hike. The US Department of Labor's report on June 3 stated that only 38,000 jobs were created in May—much lower than the expectations. The probability of a rate hike fell to 4% from 23% last week following the disappointing jobs report.