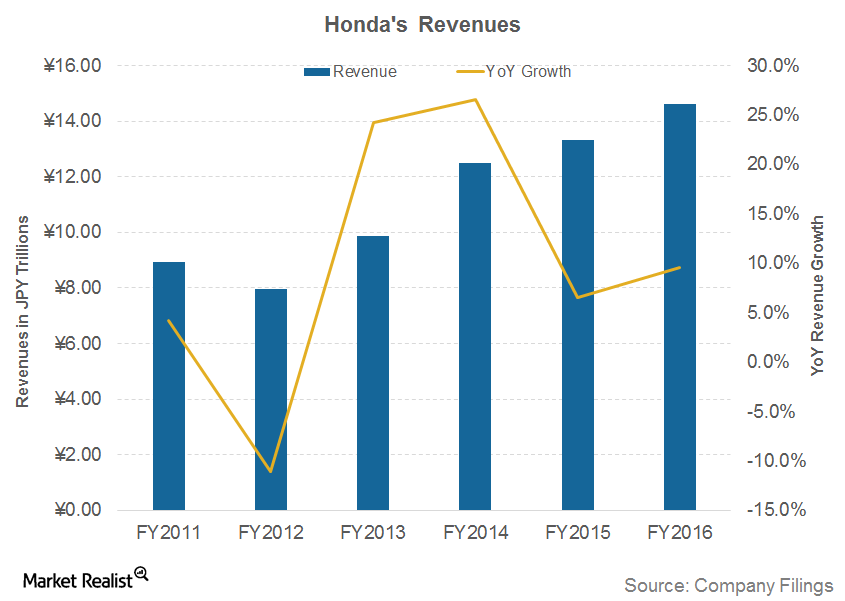 Analyzing Recent Trends in Honda's Revenue
Honda Motor Company
Previously in this series, we looked at Honda's (HMC) marketing strategy and how it helped the company expand its business in Japan and its key overseas markets. Overall, the company's marketing approach is similar to that used by other major automakers (VCR) such as General Motors (GM), Ford (F), and Fiat Chrysler (FCAU).
Now, let's look at the recent trends in Honda's revenue.
Article continues below advertisement
Honda's revenue
According to a May 2016 report published by Forbes, Honda is the 36th-largest company in the world by revenue. The company is not directly listed in the US, although its ADRs (American depositary receipts) are traded on the NYSE.
In fiscal 2016,[1. April 1, 2015–March 31, 2016] Honda reported strong revenues of ~1.5 trillion Japanese yen, which is 9.6% higher than its revenues of ~1.3 trillion yen in fiscal 2015.
As a Japanese automaker, Honda Motor Company reports its earnings in yen. As a result, investors should pay attention to the company's yen revenue to better understand the trends. The fluctuation in foreign exchange rates of the US dollar against the Japanese yen could lead to confusion if we look at Honda's revenue in dollar terms.
Behind the trend in Honda's revenue
As you can see in the chart above, Honda's (HMC) revenues have grown by ~70% since fiscal 2010. While the company's revenue from its home market witnessed stagnation and has increased by a slim ~11.2% during this period, its revenue from other international markets has increased by 83.5%.
This reflects a solid growth in North America and Asian markets such as China and India. The positive growth in North America was primarily driven by a sharp recovery in auto demand in the US after the 2008–2009 financial crisis.
Honda's North American revenue and profitability also benefited from the recent weakness in the Japanese yen against the US dollar. We'll discuss this in the next part of this series.
Read on to the next part to learn about Honda's profitability.