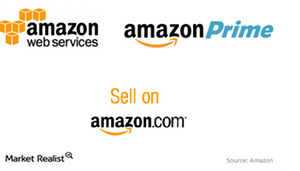 What Are Amazon's Revenue and Profitability Drivers?
What are the three pillars of Amazon's business?
Earlier, we discussed how Amazon (AMZN) is more than just a company selling goods online and how it has evolved into a technology and retail giant. It's interesting to note that the company's other services, which were developed to support its core retail business, have now become its revenue and profitability drivers.
As per the company, "AWS, Marketplace and Prime are all examples of bold bets at Amazon that worked, and we're fortunate to have those three big pillars."
Article continues below advertisement
Article continues below advertisement
Amazon Web Services
Amazon's cloud computing service, known as Amazon Web Services (or AWS), was created as a simple storage service to support Amazon's e-commerce website. It has since grown into a leading cloud computing business, posing a threat to the likes of Microsoft's (MSFT) Azure, IBM (IBM), and Google (GOOG).
AWS, which was started about ten years ago, is growing rapidly. It generated a revenue run rate of $10 billion in 2015 and contributed more than 50% to the company's operating margin in 1Q16. The company stated that AWS is bigger than Amazon.com was at the same age.
Amazon Prime
Amazon Prime is a paid membership that offers free two-day, same-day, and one-hour shipping along with video streaming services, music, and the ability to borrow books from the Kindle owners' lending library.
Amazon Prime is a crucial growth driver for Amazon's North American and international sales. The popularity of the Amazon Prime program in international countries has had a positive impact on Amazon's International segment. The company plans to expand to other overseas locations following its success in Japan (EWJ) and the United Kingdom.
Marketplace
Amazon launched Marketplace about 15 years ago. Marketplace provided third-party sellers with access to millions of shoppers in order to sell their products.
Third-party sellers benefit Amazon's gross margin, as the company doesn't have to invest in any product costs, yet it gets a commission from sales. This remains a great source of profit for Amazon, as the gross margins associated with these transactions are very high.
The company stated that in 2015, about 50% of units sold on Amazon.com were sold by third-party sellers. As per the company, "Sellers inventory becomes Prime-eligible – Prime becomes more valuable for members, and sellers sell more."