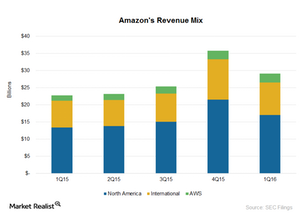 How Amazon Has Consistently Grown Its Revenue
Amazon's revenue has risen consistently
Amazon's (AMZN) revenue has witnessed strong and consistent growth. In the last five years, Amazon's revenue has risen at a compound annual growth rate of 22% thanks to its flourishing e-commerce sales driven by its Amazon Prime membership growth.
Moreover, strong revenue from its cloud-computing business largely boosted the company's overall top line. Amazon changed its reportable business segments in 1Q15 as it formally decided to unveil its AWS (Amazon Web Services) revenue and operating margins.
Article continues below advertisement
Article continues below advertisement
Amazon's revenue by segment
Amazon's North America segment's revenue made up 58.3% of its total revenue in 1Q16. Its sales rose by 27% YoY (year-over-year) to $17 billion, driven by increased unit sales of fast-growing categories such as EGM (electronics and other general merchandise). Media revenue rose by 8% to $3.2 billion YoY. EGM revenue rose by 32% to $13.5 billion.
International sales made up 32.8% of Amazon's total revenue in 1Q16. The segment's sales rose by 24% YoY, reflecting increased sales in the EGM category. Its media revenue rose by 7% YoY to $2.5 billion, or 9% excluding foreign exchange, while its EGM revenue rose by 31% YoY to $7 billion or 33% excluding foreign exchange.
AWS sales made up 8.8% of Amazon's total revenue in 1Q16. AWS sales rose 64% YoY, driven by increased customer usage and offset in part by falls in pricing. Pricing remains a key factor for AWS, as the segment faces intense competition from Microsoft's (MSFT) Azure cloud platform, Alibaba's (BABA) Aliyun cloud computing arm, and Oracle (ORCL).
Amazon constitutes nearly 6.5% of the PowerShares QQQ Trust, Series 1 ETF (QQQ).