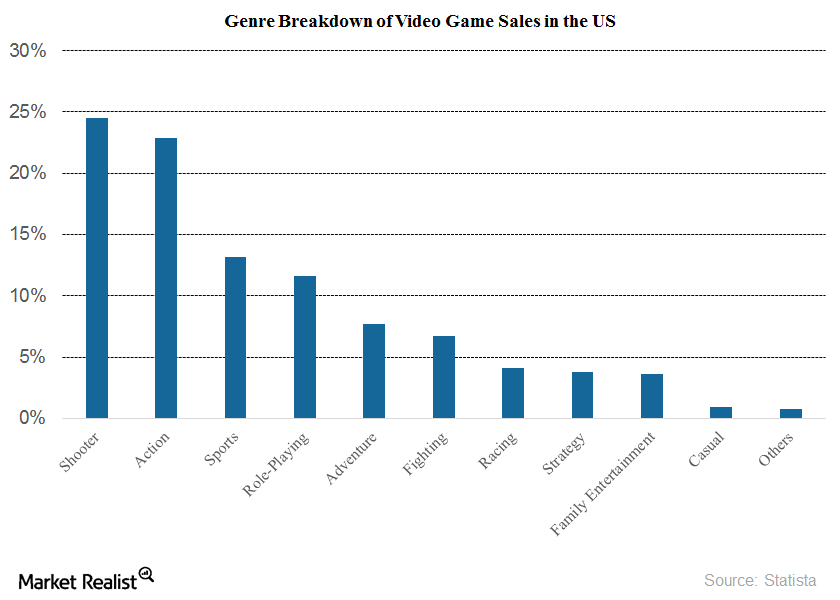 Action and Sports Genres Dominate the Video Gaming Space
Shooter and action games account for 45% of total video game sales
According to Statista, shooter and action games dominate video game sales and account for 24.5% and 22.9%, respectively, of total sales in the US (SPY). This was followed by the sports, role-playing, and adventure genres, which account for 13.2%, 11.6%, and 7.7%, respectively, of total sales.
The best-selling video games of 2015 include Electronic Arts's (EA) Star Wars Battlefront, with more than 12.4 million units sold. FIFA 2016 and Batman: Arkham Knight sold 14.3 million units and 6.7 million units, respectively. Activision's (ATVI) Call of Duty: Black Ops III was also one of the top-selling games in the last year.
Article continues below advertisement
Important statistics of video game players in the US
According to the Entertainment Software Association (or ESA), more than 155 million Americans play video games. Each game-playing household has an average of 1.7 gamers.
Approximately 80% of these US households own a device to play video games, and 48% of these households own a dedicated gaming console such as the Xbox (MSFT) and the PlayStation (SNE). More than 42% of Americans regularly play video games, totaling more than three hours per week.
According to the CEO of ESA, Michael Gallagher, "Video games are ingrained in our culture. Driven by some of the most innovative minds in the tech sector, our industry's unprecedented leaps in software and hardware engages and inspires our diverse global audience. Our artists and creators continue to push the entertainment envelope, ensuring that our industry will maintain its upward trajectory for years to come."