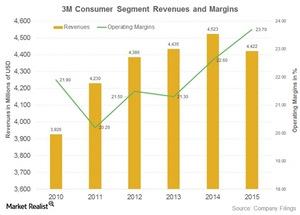 3M Consumer Products: Your Everyday Kitchen and Office Companions
<p>3M Company&#8217;s (MMM) Consumer Solutions segment is made up of four diverse businesses, which garnered a combined annual revenue of $4.4 billion in 2015.</p>
Consumer Solutions
3M Company's (MMM) Consumer Solutions segment is made up of four diverse businesses, which garnered a combined annual revenue of $4.4 billion in 2015.
The Home Improvement business was the largest of the bunch, with revenue of $1.6 billion in 2015. The business provides products such as surface preparation and wood finishing materials and filters for furnaces and air conditioners.
The Stationery & Office business (XRT) came in second, with revenue of $1.4 billion. It sells some of 3M's most popular products, such as Scotch tape, Post-it notes, glue sticks, and dispensers.
Article continues below advertisement
Article continues below advertisement
The remaining two business units, Home Care and Consumer Health Care, earned $1 billion and $0.4 billion, respectively, in annual revenues. Home Care products include Scotch-Brite scouring pads, scrub sponges, fabric protectors, safety glasses, and Thinsulate insulation, which is used in jackets, gloves, and boots.
Revenue and profitability
The Consumer segment is 3M's smallest, accounting for ~14% of its total annual revenue in the 2011–2015 period. Revenue in the segment rose from $4.2 billion in 2011 to $4.4 billion in 2015 at a compound annual growth rate (or CAGR) of 0.89%.
Revenue in the Consumer segment fell 2.2% from $4.5 billion in 2014 to $4.4 billion in 2015 as currency translations offset organic growth of 3.4%.
In the five-year period between 2011 and 2015, the Consumer segment's operating margins showed a steady rise from 20.2% in 2011 to 23.7% in 2015. The segment's operating income rose from ~$0.8 billion in 2011 to ~$1 billion in 2015 at a CAGR of 4.1%
Key ETFs
Investors interested in trading in the industrials space can look into the Vanguard Industrials ETF (VIS) and the Industrial Select Sector SPDR ETF (XLI).
Major holdings in VIS include General Electric (GE) with a weight of 12.2%, 3M Company with a weight of 4.3%, and United Technologies (UTX) with a weight of 3.7%.