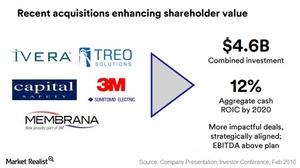 How 3M Company's Acquisition Strategy Has Changed
Acquisitions
3M Company's (MMM) acquisition strategy for the last ten years can be classified as either "BI" (before Inge) or "AI" (after Inge). In the four-year period after Inge Thulman took over as CEO and chair of 3M in 2012, the company has acquired fewer—but larger—companies.
Since 2012, 3M has spent $5.8 billion and acquired nine businesses for an average cost of $644 million. In the five-year period BI, 3M had spent $4.8 billion and acquired 70 businesses for an average cost of $69 million. Therefore, 3M's acquisition strategy has shifted under Thulman. In 2015, 3M acquired three companies for ~$4 billion.
Article continues below advertisement
Article continues below advertisement
Capital Safety acquisition
3M completed its acquisition of Capital Safety, a leading provider of fall protection equipment, in August 2015. The acquisition was made for a total enterprise value of $2.5 billion, which included the assumption of $0.8 billion in debt net of cash.
Capital Safety had earned revenue of ~$430 million in the fiscal year ended March 31, 2015. It's now part of the Personal Safety business of 3M's Safety & Graphics segment.
Analysts have been critical about 3M's overpaying for Capital Safety's business and have argued that 3M should have bought back its own shares instead. 3M has stated that Capital Safety won't meet 3M's return on capital standards for another five to six years.
Polypore's Separations Media business
In August 2015, 3M completed the acquisition of the Separations Media business of Polypore International for a purchase price of $1 billion.
The Separations Media business is a leading provider of membranes and modules for blood treatment, ultrafiltration, and gas transfer in the life science, electronic, and industry segments.
Key ETFs
Investors interested in trading in the industrials space can look into the Vanguard Industrials ETF (VIS) and the Industrial Select Sector SPDR ETF (XLI).
Major holdings in VIS include General Electric (GE) with a weight of 12.2%, 3M Company with a weight of 4.3%, and United Technologies (UTX) with a weight of 3.7%.