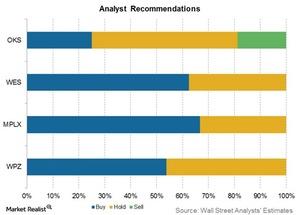 WPZ, MPLX, WES, and OKS: What Do Analysts Recommend?
By Rekha Khandelwal, CFA

May. 26 2016, Updated 3:04 p.m. ET
Analysts' recommendations
Of the analysts surveyed by Bloomberg, 54% rated Williams Partners (WPZ) a "buy," and 46% rated it a "hold." None of the analysts rated WPZ a "sell." On the other hand, MPLX (MPLX) and Western Gas Partners (WES) received "buy" ratings from 67% and 63% of analysts, respectively. Only one-fourth of analysts rated ONEOK Partners (OKS) a "buy." OKS forms ~4.5% of the Global X MLP ETF (MLPA).
The median target prices for WPZ, MPLX, WES, and OKS are $30.60, $36.10, $52.40, and $35.40, respectively. These prices imply returns of 5%, 30%, 7%, and -6%, respectively, over the next year.
Article continues below advertisement
Factors affecting future performance
The above chart shows analysts' recommendations for the biggest MLPs with significant gathering and processing operations. While some MLPs like Williams Partners (WPZ) and MPLX (MPLX) are benefiting from increased gathering and processing volumes, others like Southcross Energy Partners (SXE) have witnessed significant declines in volumes. Thus, there are bound to be differences in how MLPs perform in the future based on the key factors discussed below:
Geographical presence and production volumes: MLPs operating in the growing Marcellus and Utica shales include Williams Partners (WPZ), MPLX (MPLX), and CONE Midstream (CNNX). They may benefit from the production growth in these regions. At the same time, MLPs operating primarily in the shale plays with declining production may be negatively affected.
Contract type: Long-term, fee-based contracts may be better for gathering and processing MLPs compared to percent-of-proceeds or keep-whole contracts in the current uncertain commodity price environment. MLPs with a greater percentage of fee-based contracts are likely to have more stable cash flows.
The creditworthiness of upstream clients: Even if a gathering and processing MLP has strong contracts with minimum volume commitments, it faces risk if the upstream client's business is not doing well or if the client faces bankruptcy. Thus, the kind of client exposure also plays a critical role in the expected performance of gathering and processing MLPs.