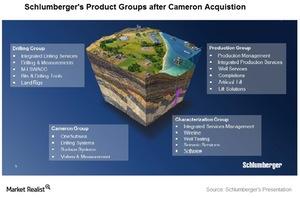 Can the Cameron Integration Give Schlumberger a Boost?
By Alex Chamberlin

Updated
Schlumberger's business model
Despite the energy sector weakness, Schlumberger (SLB) remains a strong OFS (oilfield services and equipment) company. Its business model is diverse and not overly dependent on any particular line of business while catering to upstream companies' needs. Its operations are geographically spread over 85 countries. The company is thus insulated from an energy business cycle downturn in any particular geographic location.
Schlumberger's merger with Cameron International has added to its product and service portfolio. Let's see how these factors have contributed to SLB's returns, which are better than the industry ETFs.
Article continues below advertisement
Energy price weakness hurts all
The slowdown in E&P (exploration and production) activity has spread around the world, scathing even the strongest companies such as Schlumberger. Lower E&P activity negatively affects OFS companies' revenues and profitability. SLB's management expects the energy price weakness to continue in fiscal 2016 and budgets to remain pressured.
Investment in technology
SLB's investment in digitally enabled systems is expected to start benefiting its land drilling system and hydraulic fracturing system in late 2017. A multiclient seismic survey is a key area in which SLB invests. SLB currently has eight active 3D (three-dimensional) vessels that use IsoMetrix technology. These vessels are in use in the Campeche Basin in Mexico and in offshore Mozambique and South Africa.
Article continues below advertisement
Change in approach
Schlumberger is shifting its traditional procurement-driven business model to integrated services management. Under this, Schlumberger's production management takes full responsibility for field management. SLB has used this model with Royal Dutch Shell's (RDS.B) projects in five wells in three countries. In the Auca project in Ecuador, SLB started implementing this in fiscal 1Q16.
Schlumberger is 0.6% of the iShares S&P 500 ETF (IVV). For investors looking for exposure to the energy sector, energy makes up 7.2% of IVV.
Will the Cameron integration be beneficial for SLB?
Following Schlumberger's acquisition of Cameron International on April 1, 2016, Cameron became Schlumberger's fourth product group. Schlumberger management expects pre-tax cost synergies to be ~$300 million in the first year of the Cameron integration and $600 million in the second year.
Cameron's developments in the incubated surface and subsurface systems technology may improve SLB's drilling and production performance. SLB also expects to integrate its existing drilling system with the new purpose-built surface and downhole hardware. These can increase SLB's operational efficiency.
Next, we'll take a look at Schlumberger's revenue and earnings.