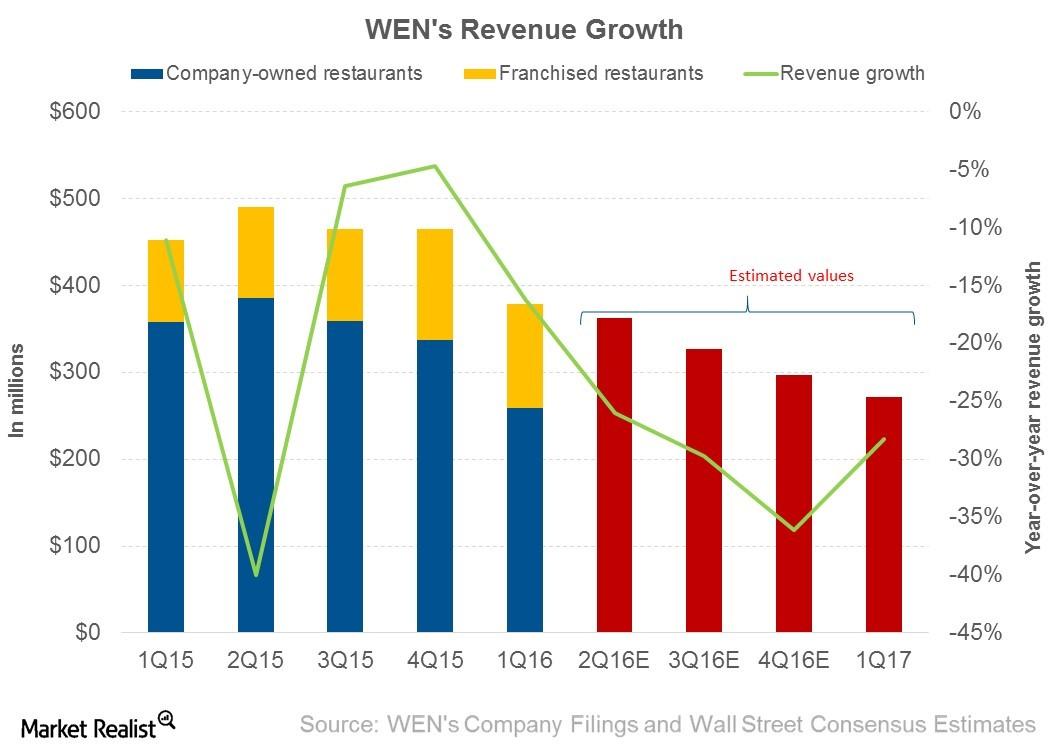 Why Did Wendy's Revenue Fall in 1Q16?
Revenue sources
Wendy's Company (WEN) generates its revenue through company-owned restaurant sales, franchisee fees, rental income, and royalty collected from franchisees.
Article continues below advertisement
1Q16 performance
Wendy's posted revenue of $378.8 million, a fall of 16.2% from $452 million in 1Q15. Due to its optimization strategy, the company is selling its company-owned restaurants to franchisees.
Compared to 1Q15, Wendy's operated 361 fewer company-owned restaurants, which led to a 27.5% fall in revenue from this segment, from $357.6 million to $259.3 million.
The company's revenue from its franchised restaurants rose 26.5%, from $94.4 million to $119.5 million. The rise in revenue in this segment was primarily driven by a rise in rental revenue from its franchisees. Also, the number of franchised Wendy's restaurants rose by 355, and positive same-store sales growth led to growth in franchisee fees and royalties collected from these franchisees.
Outlook
Analysts expect Wendy's, which forms 0.15% of the holdings of the iShares Core S&P Mid-Cap ETF (IJH), to post revenue of $1.4 billion in 2016. This revenue estimate for 2016 represents a potential fall of 37.1% from $1.9 billion in 2015.
The fall in expected revenue may be due to Wendy's optimization strategy, wherein the company is refranchising to lower its percentage of company-owned restaurants to 5% by the end of 2016.