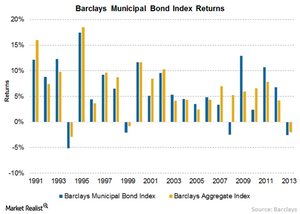 Why US Municipal Debt Looks Attractive
By Richard Turnill

Aug. 18 2020, Updated 5:25 a.m. ET
3. U.S. municipals.
U.S. municipal debt looks attractive against other bond sectors, and we see potential for inflows after munis' recent strong performance. The sector's tax-exempt status is another plus, and munis are a portfolio diversifier, with negative correlations to equities and high yield, our analysis shows. Finally, munis also have been the least volatile fixed income sector, based on daily moves in the past three years.
Within the sector, we favor revenue bonds backed by revenue streams such as water or sewer utilities over general obligation debt that is vulnerable to local pension deficits. We also favor selected exposure to high yield munis, except those of troubled Puerto Rico.
Article continues below advertisement
Market Realist – Munis offer better returns and have low correlations to equities
Municipal bonds (MUB)(CMF) are debt securities issued by states, municipalities, and other public entities to fund their operations or any public projects. The interest income on tax-free munis is exempt from federal income tax and often from state and local income tax as well.
Historically, we've seen that investment-grade and high-yield municipal bonds have a very low correlation with most other asset classes. At times, the correlation was as low as zero, which indicates that munis could offer better portfolio diversification. According to FactSet data for the five-year period ended September 2013, Barclays Municipal Bond Index had zero correlation with the S&P 500 Index (SPY), -0.01 correlation with the Russell 2000 Index, and 0.16 with the MSCI Emerging Markets Index (EEM).
Under stock market volatility, munis (SHM) could provide higher returns than most other asset classes. The most striking example of this advantage was in 2015, when munis outperformed other asset classes. Investment-grade municipal bonds, as represented by the Barclays Municipal Bond Index, offered a 3.3% return in 2015 while high-yielding municipal bonds, as represented by Barclays Municipal High Yield Bond Index, rose 7.5%. In contrast, the S&P 500 was up a mere 1.4% while US bonds returned 0.55%.
Revenue bonds guarantee repayment and are secured by a specific revenue source. They're mainly used to fund income-producing projects. Since municipal security doesn't back revenue bonds, they carry a higher default risk, so they offer a slightly higher interest rate than general-obligation bonds.