How Does Toyota Plan to Deal with Its Challenges?
By Jitendra Parashar

Jun. 8 2016, Updated 2:05 a.m. ET
Toyota Motor Corporation
So far in this series, we have looked at Toyota's (TM) various financial and operating facts and figures. Despite being based in Japan, the company competes with the US-based automakers in their home market.
In this part of the series, we'll take a closer look at how Toyota is planning to deal with challenges going forward. First, let's quickly understand its key strengths.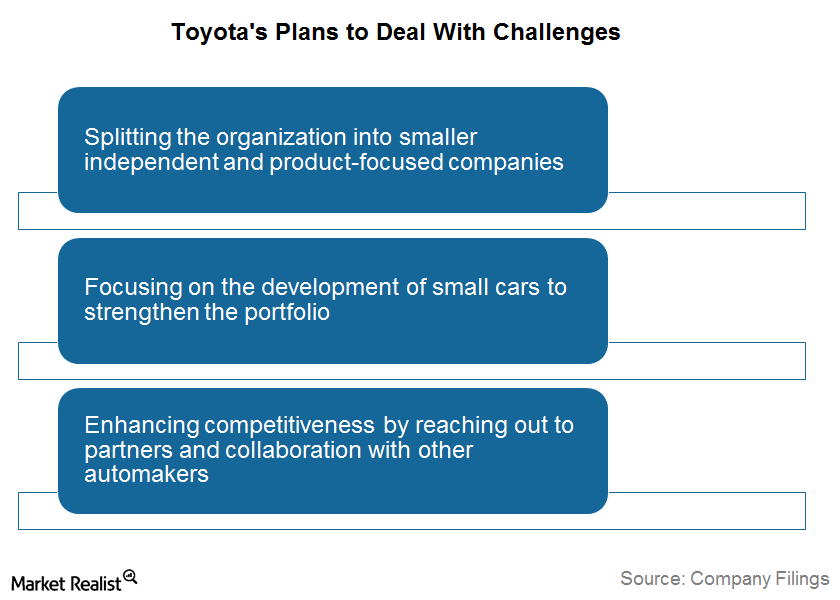 Article continues below advertisement
Toyota's key strengths
Some of Toyota's key strengths can be summarized as follows:
Currently, Toyota is the largest automaker by volume. Toyota's margins are much higher than its direct peers.
Toyota has been able to capture a huge chunk of the North American auto market share.
The company's leading car models, Camry and Corolla, have been among the best-selling cars in the US for many years.
Challenges ahead
Some of the key challenges that Toyota is likely to face going forward are as follows:
Toyota's sales in its home market are going through a phase of stagnation.
Any weakness in the Japanese yen provides a competitive advantage to Toyota's overseas business. Therefore, the company's margins from the overseas business are highly dependent on the currency movement of the Japanese yen against major currencies, including the US dollar and the euro. Continuous strength in the yen against these currencies can significantly affect Toyota's profitability.
Despite being an Asian automaker, Toyota is unable to stay ahead of GM in the Chinese market.
With increasing environmental awareness across the globe, a delay in Toyota's ability to deliver mainstream eco-friendly vehicles may restrict its future growth prospects.
Article continues below advertisement
How can Toyota deal with these challenges?
Currently, Toyota (TM) has an opportunity to expand its presence further in emerging markets such as China and India, among others. However, this can be achieved by delivering market-specific products.
Realizing this opportunity, Akio Toyoda, the company's president, mentioned during the fiscal 2016 earnings release, "We have taken another step toward creating ever-better cars by splitting our organization into smaller independent and product-focused companies." This should help the company in building market-specific vehicles in a better way.
Moreover, Toyota is the global leader in the auto industry with an excellent production system in place. The company's cost-cutting measures have helped it to survive during the worst conditions in the auto industry. However, with changing industry dynamics, Toyota needs to maintain the pace by bringing in more innovation on every front.
In today's scenario, increasing the popularity of electric vehicles can't be ignored by legacy automakers to stay ahead of the competition.
Continue to the next part to read more about Toyota's space in the Electric Vehicle segment.