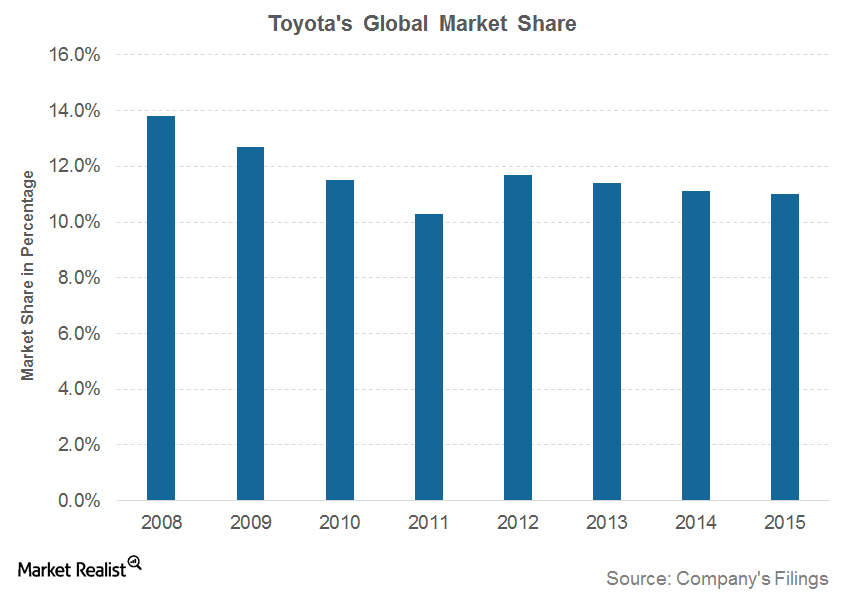 How Toyota Became the World's Largest Automaker
Toyota Motor Corporation
Toyota Motor Corporation (TM) is a well-known name in the global auto industry. Despite being founded much later than mainstream US automakers such as General Motors (GM) and Ford Motor Company (F), Toyota has become the world's largest automaker.
In this part of the series, we'll take a look at Toyota's market share in the global automotive industry.
Article continues below advertisement
Becoming the world's largest automaker
Toyota (TM) began exporting to the United States in 1957. Initially, adoption of its automobiles was a slow process, as this was the age of big cars. In 1973, the OPEC embargo and the resulting spike in oil and gas prices increased US consumers' adoption of smaller cars.
Toyota gained market share during the next few decades. Toyota opened its first US manufacturing facility via a joint venture with General Motors in 1984 in California. Toyota opened a wholly owned plant in Kentucky in 1988.
Toyota established its US headquarters in 1982. It expanded into luxury cars in the 1980s, pickup trucks in the 1990s, and hybrids in the 2000s.
Current market share
Toyota became the world's largest automaker by volume in 2008, surpassing General Motors (GM), the largest US automaker, for the first time. At the time, TM's global market share stood at 13.8% while GM's share was 12.8%.
Since then, the battle to become world's top automaker has intensified in the auto industry (IYK). Meanwhile, Volkswagen (VLKAY) also gained significant market share. The fourth-place automaker in 2008 with 9.6% market share, Volkswagen became the third-largest automaker in 2015 with 10.7% global market share.
In 2015, Toyota had a global market share of 11.0%, higher than General Motors's 10.8% market share.
Continue to the next part to learn about Toyota's key markets.