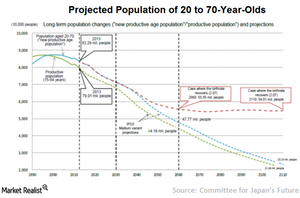 Why Structural Reforms Are Needed to Spur the Japanese Economy
By Richard Turnill

Jun. 6 2016, Updated 11:06 a.m. ET
But we would need to see additional easing coupled with advances toward achieving Abe's second and third arrows, for us to adopt a more bullish view of Japan. In the near term, we are awaiting credible fiscal stimulus aimed at paving the way for structural reforms. Over the longer term, we want to see tangible progress in labor reform and in cutting red tape for local businesses. Read more market insights in my weekly commentary.
Article continues below advertisement
Market Realist – Structural reforms needed to support growth
Market participants believe that the BoJ (Bank of Japan) needs to do more to beat deflation and propel the Japanese economy to sustainable long-term growth. Until now, the government's focus was mainly on easy monetary policy. We have yet to see any meaningful action on short-term fiscal stimulus and structural reforms, especially related to labor laws.
On the fiscal policy front, the government (EWJ)(DXJ) launched a substantial spending program targeted mainly to rebuilding infrastructure affected by the earthquake. However, it hasn't delivered significant results. The other fiscal measure initiated by the government (SCJ) was to raise the value-added tax to 8% from the earlier 5%. This move mainly aimed to fill the higher fiscal deficit gap and address growing debt concerns. However, the move was insufficient to boost economic growth.
The third arrow of the government's strategy hasn't been initiated meaningfully to date. Japan's (HEWJ) working-age population has been shrinking, and the country (DFJ) is suffering from labor shortages, posing a serious challenge to the government. In the short term, this shortage leads to skill mismatches across occupations. In the long term, it will negatively impact economic growth.
Although the government called for more women to work and introduced a system of temporary permits to foreign workers, it's not open to the idea of permanent permits to solve the labor shortage issue. This reticence doesn't bode well because failure to implement structural reforms would undermine the economy's long-term growth prospects.
Unless the government unleashes a slew of reforms, the Japanese economy is unlikely to report robust numbers.