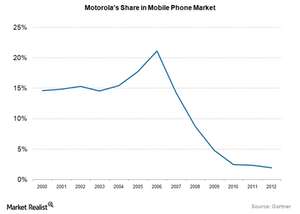 Inside Motorola: The Story of a Leader's Fall to Niche
The decline of Motorola's good fortune
Motorola's story has been similar to Nokia's. It was considered to be an alternative to Nokia phones for a long time, with the Motorola Razr proving to be quite popular. However, with the advent Apple's (AAPL) iPhone and Samsung's smartphone offerings, Motorola quickly lost its market share.
Google (GOOG) then acted as an unlikely support to Motorola by acquiring it in 2012 for a valuation of $12.5 billion. The main motivation for Google buying Motorola Mobility was the latter company's treasure trove of patents. The idea was that the patents would help the company with legal protection for its widely used Android software for smartphones and tablets against competitors such as Apple, BlackBerry (BBRY), and Microsoft (MSFT).
Article continues below advertisement
Article continues below advertisement
Google, then Lenovo
Google had always kept Motorola's hardware business at arm's length in order to avoid the risk of alienating other mobile device makers that relied on Android. The result was that Google's Nexus-branded phones often stole the spotlight. Motorola was thus bleeding losses before Google bought it—and then it continued to lose money, even after the acquisition.
In 2014, Lenovo bought Motorola's hardware business unit from Google. Lenovo was already among the largest smartphone players in its home country, China (FXI). But it had almost no presence in the lucrative markets of the US and Latin America. The Motorola deal helped Lenovo gain more presence across these markets.
However, despite having Motorola, Lenovo's share in the worldwide market declined from 6.5% in 2014 to 5.1% in 2015, according to Gartner. Still, Motorola's smartphone brands Moto X and Moto G are gaining popularity among users, and so it might continue to be a niche player going forward.
Ever wonder what really happened to Blackberry? Keep reading to find out.