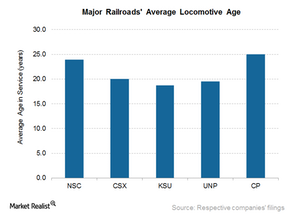 A Quick Glance at Major US Railroads' Fleet Age
US railroads' fleet age
The fleet of railroads includes railcars and locomotives. In this part, we'll compare the average locomotive fleet age of US Class I railroads. There are usually two types of locomotives—freight and switching. Freight locomotives are for moving long distance rail freight. The switching locomotive is a small locomotive usually used for assembling trains to be hauled by a road locomotive.
Locomotive age can impact a railroad's fleet operating costs, capital investment plans, and future profit generating capacity. In normal parlance, older locomotives are less fuel efficient and more expensive to operate and maintain. Insurance rates also go up with the age of the locomotives and railcars. This puts more pressure on the fleet's operating cost for the railroad. In contrast, the capital locked up in an older locomotive and railcar is usually less. Shippers don't pay less for freight transportation through old railcars than new ones.
Article continues below advertisement
Article continues below advertisement
Average fleet age comparison
According to the information available for some major Class I railroads, Canadian Pacific Railway (CP) has the highest average locomotive fleet age of 25 years. It's followed by Norfolk Southern (NSC). It has an average locomotive fleet age of 23.9 years. Kansas City Southern (KSU) has the lowest locomotive fleet age of 18.7 years. CSX (CSX) and Union Pacific's (UNP) average locomotive fleet ages are 20.0 years and 19.5 years, respectively. Canada's largest freight rail is Canadian National Railway (CNI). Its business model relies on owning fewer railcars and locomotives. The company needs fewer locomotives and railcars to ship the same amount of freight in a reliable, tight, and efficient operation. As a result, the company hasn't provided details like the average age or retirement age of its locomotives and rolling stock.
The WisdomTree Earnings 500 Fund (EPS) is a growth ETF. The prominent transportation and logistics companies included in this ETF are Union Pacific, United Parcel Service (UPS), and Delta Air Lines (DAL).
In the next part of this series, we'll look at these railroads' capital expenditure in 1Q16.