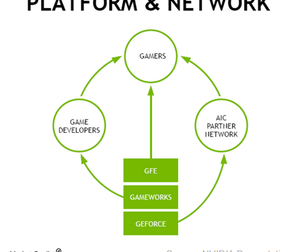 NVIDIA's Strategy to Reach Out to a Larger User Base
By Puja Tayal

Updated
NVIDIA grows amid slowdown
NVIDIA (NVDA) reported a 7% YoY (year-over-year) revenue growth in 2015, a time when the semiconductor industry revenues fell by 2.3% YoY, as reported by Gartner.
Big players like Intel (INTC) and Qualcomm (QCOM) reported declines in 2015 due to their high exposure to the slowing PC and smartphone markets. NVIDIA's arch-rival Advanced Micro Devices (AMD) also reported revenue declines.
At the annual Investor Conference held in April 2016, NVIDIA's top executives highlighted the company's growth opportunities in terms of geography and new technology.
NVIDIA's chief executive officer, Jen-Hsun Huang, explained that the company's growth is being driven by its two-part business model: platform and network as well as leverage and scale. Let's look at these two parts in detail.
Article continues below advertisement
NVIDIA's strategy of platform and network
NVIDIA has adopted a platform and network approach to reach out to a large audience. It started off by producing a GPU (graphics processing unit) computing platform for PCs and games and then generalized the platform, opening it up to the right markets.
A computing platform needs applications to succeed in a new market, and applications are developed by developers. A developer would use the computing platform if it "adds value," is "easy to use," and has a "large reach," stated Jen-Hsun Huang.
NVIDIA achieved the first two requisites with its GameWorks SDK (software development kit). The kit allowed developers to enhance video games by giving them more access to the GPU features. (We will learn more about this in the latter part of the series.) The company fulfilled the last requisite of large reach by using its Partner Network that sold its GeForce GPUs to gamers.
GeForce GPUs were popular among gamers and the addition of GameWorks boosted its growth. Developers started using GameWorks to develop better games, and they all used GeForce GPU in their systems. Gamers also adopted GeForce GPU to play games developed on GameWorks to get the ultimate GFE (GeForce Experience).
This created a two-sided business model—one for developers and one for the partner network.
Reaching out to a larger audience
After the success of its platform and network approach in the gaming arena, NVIDIA successfully replicated the model in different markets such as automotive, data center, and professional visualization. However, developing new technologies for specific markets entails a large cost. The company tackled this issue using the leverage and scale approach, which we will discuss in the next part of this series.
The iShares Russell 1000 Value ETF (IWD) has holdings in large-cap US stocks across various sectors, including technology. IWD has 0.19% exposure in NVDA, ~1.3% in INTC, and 0.65% in QCOM.