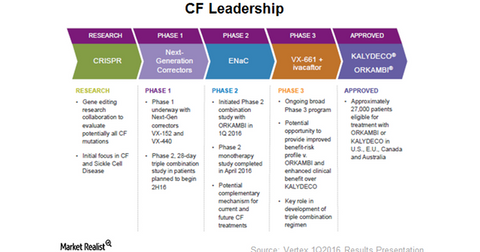 How Much Potential Does Vertex's CF Pipeline Hold?
By Jillian Dabney

Updated
Update on Vertex's CF pipeline
Vertex Pharmaceuticals (VRTX) has a pipeline targeting cystic fibrosis (or CF) in various development phases. The pipeline of CF drugs comprises VX-661, epithelial sodium channel (or ENaC), next-generation correctors, and gene editing technology. The gene editing technology is developed in collaboration with CRISPR Therapeutics.
Article continues below advertisement
VX-661
The VX-661 molecule is currently in the Phase 3 development stage for patients with two copies of the F508del mutation. Vertex is evaluating the drug in combination with ivacaftor, or Kalydeco.
The Phase 2 data of the trial suggested that VX-661 had an improved benefit risk profile compared to Orkambi. The first data from the Phase 3 trial is expected in early 2017. Vertex expects potential US approval for the drug by fiscal 2018.
VX-371
VX-371 is an epithelial sodium channel (or ENaC) inhibitor medicine. Phase 2 of the clinical trial for the drug studied its results in patients who didn't use any Cystic Fibrosis Transmembrane Regulator (or CFTR) modulator therapy. The study met the primary endpoint of safety.
Article continues below advertisement
Next generation correctors: VX-152 and VX-440
The VX-152 and VX-440 molecules are in Phase 1 of development. If there's a positive outcome from the Phase 1 study, Vertex plans to initiate Phase 2 studies in the second half of 2016.
Phase 2 studies will "evaluate one or more next-generation correctors with VX-661 and ivacaftor and people with CF," according to the company.
Gene editing
Vertex and CRISPR Therapeutics are evaluating the use of CRISPR-Cas9, a gene editing technology, for the potential correction of the mutations in the CFTR gene.
To maintain leadership in the CF space, Vertex has to come up with novel and superior molecules that offer enhanced clinical benefits to CF patients. Other companies conducting research in the CF space include Pfizer (PFE), Shire (SHPG), and Sanofi (SNY).
To diversify the risk of investing directly in Vertex Pharmaceuticals, investors can look into options such as the iShares Core S&P 500 ETF (IVV). IVV holds 0.11% in Vertex.