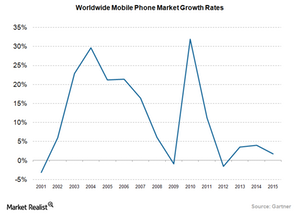 Mobile Devices over the Years: How Far We've Come
Nokia and Motorola before Apple domination
PC and mobile devices market have dominated the technology sector landscape for the past three decades. The PC industry had its best period between the 1980s and 2000s, when the battle between the two tech giants Microsoft (MSFT) and Apple (AAPL) reached epic proportions. The rivalry between CEOs Bill Gates and Steve Jobs dominated the headlines during that era.
However, things started to change in the early 2000s when the mobile device market really started to evolve. Nokia and Motorola dominated this market until 2006. Even BlackBerry (BBRY) managed to attract enterprise users with its unique "push email" feature. However, things started to change again after Apple introduced its revolutionary iPhone in 2007 on AT&T's (T) network. The unique touch interface along with its attractive user interface and product design made iPhone the most desirable device.
Article continues below advertisement
Article continues below advertisement
Overall mobile phone market growth
The overall mobile phone market has experienced periods of fast growth as well as periods of slow or negative growth. The chart above shows the peaks and troughs of the worldwide mobile phone market growth rates over the past few years. It also shows how the market came back to growth after the 2001 dot-com bust period, and then again declined as the global recession hit in 2008.
The global economy has experienced slower growth since then, and the mobile device market has shown signs of saturation. Moreover, the slowing Chinese (FXI) economy and the macroeconomic situation could further threaten growth in 2016. This will likely have an impact on mobile devices market as well.
In this series, we'll retell the story of the mobile device market up to today, including both smartphones and tablets in our tale. As we go, we'll analyze what factors changed the fortunes of the major players in the ever-developing mobile device story over the years.
Let's start with a brief history.