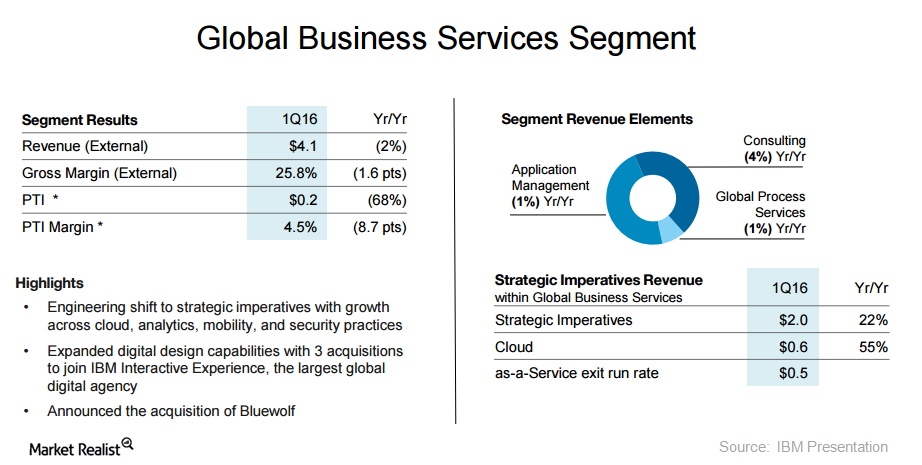 Why IBM's Global Business Services Failed to Grow
Strategic Imperatives posted double-digit growth in 1Q16
Previously in this series, we discussed the fiscal 1Q16 performance of IBM's (IBM) Cognitive Solutions segment and the Technology Services and Cloud Platforms segment. Let's look at how IBM's Global Business Services (or GBS) performed in 1Q16.
IBM's GBS revenue fell by 4.3% to $4.1 billion in fiscal 1Q16. On a constant currency basis, this decline amounted to 2.3%. IBM's GBS segment encompasses Consulting, Global Process Services, and Application Management.
Application Management contributed approximately 45% toward GBS revenue. The remaining ~45% and ~10% were contributed by Consulting and Global Process Services, respectively.
Strategic Imperatives' revenue in GBS grew by 22% to $2 billion, while Cloud grew by 55% to $600 million on a constant currency basis. Strategic Imperatives contributed close to 50% to GBS segment's revenue.
Article continues below advertisement
IBM's Interactive Experience unit
Despite IBM's Strategic Imperatives' consistent double-digit growth and spending billions to acquire 14 companies in 2015, revenue growth continues to be elusive to IBM. To revive growth in its GBS segment, of which Interactive Experience (or iX) is a part, IBM announced three acquisitions primarily intended to boost its digital agency, iX, year-to-date in 2016:
Aperto: a Germany-based online advertising agency
Resource/Ammirati: a digital marketing agency that is the results of a merger that occurred when Resource Interactive purchased Ammirati in November 2014
IBM is not the only company in the IT sector that is focused on the digital agency and marketing space. Accenture (ACN) recently acquired Boomerang Pharmaceutical Communications in December 2015.
Apart from its acquisitions, IBM also partnered with Apple (AAPL) and Twitter (TWTR) to solidify its presence in the software, cloud, and big data space.