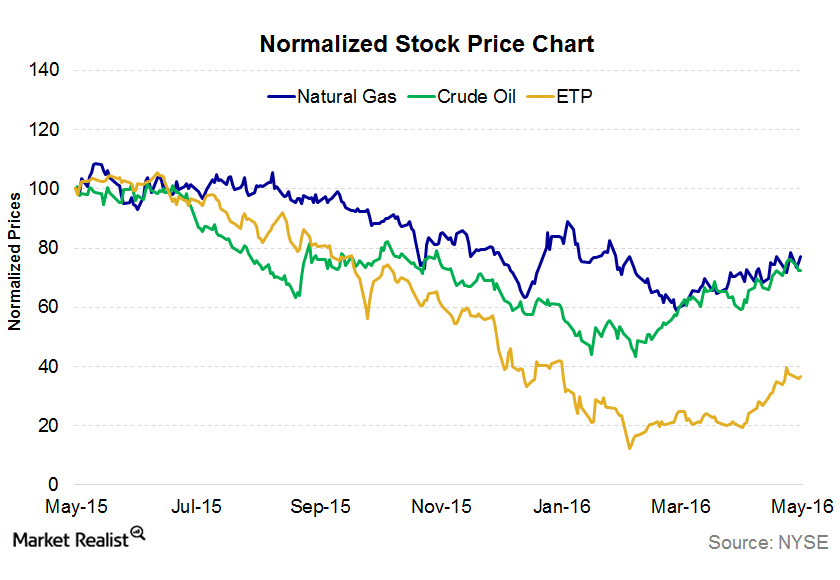 ETE and ETP: What Do Analysts Recommend Post-1Q16?
By Kurt Gallon

Dec. 4 2020, Updated 10:53 a.m. ET
ETP's direct commodity exposure
In this article, we'll look at analyst ratings for Energy Transfer Equity (ETE) and Energy Transfer Partners (ETP) after the release of their 1Q16 earnings data. However, before that, let's look at ETP's commodity price exposure. ETP is mainly exposed to natural gas and NGLs (natural gas liquid) prices through its natural gas midstream business. An NGL price recovery depends on a recovery in WTI (West Texas Intermediate) crude oil prices. Enable Midstream Partners (ENBL) and Midcoast Energy Partners (MEP) are some companies with a similar exposure.
Article continues below advertisement
ETP's indirect commodity exposure
Midstream companies are indirectly exposed to commodity prices through production levels. If crude oil (USO) and natural gas (UNG) prices continue to stay low, upstream producers might cut their production or even go bankrupt, which might result in lower throughput volumes, lower earnings, contract renegotiations, and higher counterparty risk.
On throughput volumes, ETP chief operating officer Marshall S. McCrea said that "there were some volumes shut in and some other issues with producers in the first quarter. We are seeing some of those volumes come back on. So first quarter compared to the fourth quarter was down a little bit. But we continue to believe that Eagle Ford will hang in there. Permian Basin and Delaware will grow. The Northeast is growing. It just doesn't show." He added that "if everything that we tied into that's dedicated to us flows, our volumes would probably be up 7% or 8% at least in this quarter and ongoing quarters."
While ETP experienced an increase in its Eagle Ford throughput volumes in 1Q16, most midstream companies, including Kinder Morgan (KMI), saw a decline. KMI decided to lower its 2016 guidance due to the Eagle Ford decline. For more details, read Kinder Morgan Posts 1Q16 Earnings, Lowers Guidance. ETP's strong throughput volumes could also be behind its surge.
Analyst ratings for ETE and ETP
At a broader level, 40.0% of analysts rate Energy Transfer Equity a "buy" and the remaining 60.0% rate it a "hold." ETP has been rated "buy" by 64.7% of the analysts surveyed while the remaining 35.3% rate it as "hold." The consensus target prices of $12.30 and $37.40 for ETE and ETP imply 5.9% and 5.8% returns in the next 12 months from their May 5, 2016, closing prices of $13.10 and $35.40, respectively. For more post-earnings coverage on midstream companies, check out our Master Limited Partnerships page.