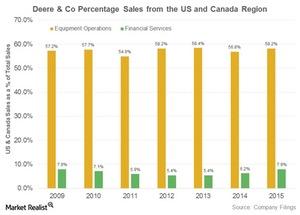 How Deere's Margins Differ across Key Geographical Markets
US and Canada
The US and Canada regions were responsible for 63.9%, 63%, and 66.1% of Deere & Company's (DE) total revenues in 2013, 2014, and 2015, respectively. In dollar terms, these percentages amounted to $23.8 billion, $22.4 billion, and $18.8 billion in the respective years.
The company derived the rest of its revenue outside of the US and Canada regions. Investors should note that the United States and Canada contribute larger shares to DE's profit pie because operating margins in the region are much higher, ranging between 13% and 20% in the last three years.
Consequently, the US and Canada regions were responsible for 80.4%, 77.4%, and 78% of DE's total operating profits in 2013, 2014, and 2015, respectively. Caterpillar (CAT) and AGCO (AGCO) are Deere's key competitors in the regions.
Article continues below advertisement
Emerging markets
Margins outside of the United States have ranged between 7% and 9% in the last three years. Emerging markets are extremely price-sensitive. In some markets such as China, where no manufacturer holds market share greater than 3% in agriculture (DBA) equipment, pricing is extremely tight.
In Brazil, a key growth market, DE is unlikely to reduce costs against falling equipment sales due to higher interest rates and recession. The Brazilian government, which provides subsidies for the purchase of farm (MOO) equipment, announced spending cuts of $16.9 billion in 2015. These cuts have affected agriculture subsidies, cementing the downward sales outlook in the country.
Among other markets such as India, where Deere has a long history, including sales of equipment almost 60 years ago, the company has forged joint ventures to mitigate concerns about local manufacturing. Deere now has the distinction of being the largest tractor exporter from India for 11 consecutive active years.
A tractor performance index survey conducted by McGraw-Hill Financial in 2015 showed that Deere's tractors ranked best in the 41–50 horsepower tractor category in India.