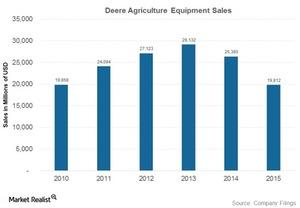 Why Did Deere & Company Consolidate Its Dealer Network?
Deere's strategy: Dealer consolidation
Despite relying on dealers to sell its iconic tractors for almost a 100 years, Deere & Company (DE) began consolidating its dealer network in the mid-2000s to reflect the changing competitive landscape of the times.
Deere wanted to cut back on overproduction at its factories and preferred dealers with solid inventory management skills. The company asked smaller dealers that were unable to meet performance targets to cash out to bigger dealers who could. While this soured DE's relationship with some smaller dealers, the move made economic sense and was in line with current business realities.
Article continues below advertisement
Dealer consolidation led to lower costs
Dealer consolidation benefits can be roughly classified along two lines: the cost side and the customer service side. A consolidated dealer network requires fewer feet on the ground to oversee distribution and chase bad loans from smaller distributors.
Additionally, dealers are less likely to engage in price wars as marginal distributors drop out and the remaining distributors deal with bigger territories. Retailers (XRT) with solid inventory management skills mean fewer instances of offering steep discounts to clear out surplus inventory during a recession.
Customer service
Customer service improved significantly as well, as consolidation meant distributors became big enough to afford overnight trucking costs to offer next-day delivery of out-of-service parts. After consolidation, distributors were also allowed to hire more skilled managers and technicians. Skilled workers with sales and management skills even the odds when making sales pitches to big farmers who own thousands of acres of land.
Investors interested in trading in agribusinesses can look into the VanEck Vectors Agribusiness ETF (MOO). Those interested in trading in dividend-based ETFs can look into the SPDR S&P Dividend ETF (SDY).
Major holdings in MOO include Monsanto (MON) with a weight of 8.2%, Archer Daniels Midland (ADM) with a weight of 6.4%, and Deere & Company with a weight of 6.8%.