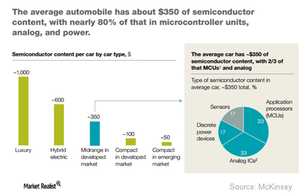 Automotive: The Next Big Thing for Texas Instruments
By Puja Tayal

May. 25 2016, Published 1:13 p.m. ET
Texas Instruments diversifies into new segments 
The first quarter of 2016 has seen mixed results from Apple (AAPL) suppliers. Apple reported its first decline in iPhone sales and expects more declines in the second quarter due to weak demand for the iPhone 6S and 6S Plus. Some suppliers took a hint and started diversifying into different areas and expanding its customer base. One of these suppliers is analog maker Texas Instruments (TXN).
Texas Instruments has posted better-than-expected guidance for fiscal 2Q16. This came despite its key customer, Apple, scaling back production of the iPhone 6s and 6s Plus. This is because TXN increased its exposure in the automotive, industrial, and communications segments. Together, these segments accounted for 64% of the company's revenue in fiscal 1Q16.
Article continues below advertisement
Texas Instruments expects to report revenue of $3.2 billion in fiscal 2Q16, taking the midpoint of the range. That's higher than fiscal 1Q16 revenue of $3 billion and above analysts' estimate of $3.2 billion. The strong guidance indicates an increasing demand for car automation and infotainment. Texas Instruments' chief financial officer Kevin March said, "Probably automotive is going to be the strongest. There's a lot more content going in cars."
What does automotive mean for the semiconductor industry?
Cars are now becoming mobile computers, providing an opportunity to use more semiconductor content. According to McKinsey, an average car has semiconductor content worth $350. Of that, ~80% is analog, power, and MCUs (microcontrollers), all three provided by Texas Instruments.
IC Insights expects the automotive segment to grow at a CAGR (compounded annual growth rate) of 6.7% between 2014 and 2019, the fastest among all semiconductor end user applications.
Article continues below advertisement
The biggest beneficiary from this trend is NXP Semiconductors (NXPI), which reported 51.6% YoY (year-over-year) growth in revenue to $2.22 billion, beating analysts' estimate of $2.21 billion. The increase was also due to the integration of Freescale. NVIDIA (NVDA) has also ventured into automotive and is looking to tap self-driving technology.
Texas Instruments' exposure to Apple
While TXN has diversified in various markets, it still earns 30% of its revenue from consumer electronics. Apple continues to be its largest customer, according to Bloomberg data. We'll see how iPhone sales impact TXN in the next part of the series.
You can gain exposure to some Apple suppliers by investing in the iShares Russell 1000 (IWB). It has 0.12% exposure to NVDA, 0.31% to TXN, and 2.7% to AAPL.