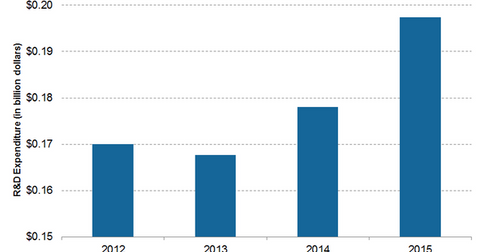 Analyzing Intuitive Surgical's R&D Strategy and Innovations
By Sarah Collins

Updated
Intuitive Surgical's R&D strategy
Intuitive Surgical (ISRG) is focused on providing improved and innovative products to its customers. It's continuously enhancing its product offerings, enabling more efficient MIS (minimally invasive surgery) procedures through internal research and development (or R&D).
The company spent ~$197.4 million—approximately 8.2% of its total sales—on R&D programs in 2015. To complement its R&D activities, Intuitive Surgical continues to establish strategic alliances with other medical technology companies. These alliances include academic partnerships, product development, and collaborations.
Article continues below advertisement
New products and technology innovations
Intuitive Surgical's fourth-generation da Vinci surgical system contains the Xi platform, which is constantly updated with new innovative features and functionality. The company's recent launches include intraoperative table motion, a single-site instrument and accessory kit, the 30-mm Xi stapler, and the Sp program.
Real-time aid during surgeries and cloud infrastructure that enables access to analytic insights are some of the technological advancements that have been introduced in da Vinci surgical systems as a result of Intuitive Surgical's R&D efforts. More than 1,400 da Vinci surgical simulators are being used worldwide in addition to hundreds of real-time training consoles for surgeons.
Integrated Table Motion is a combination of the da Vinci Xi surgical system and Trumpf Medical's advanced operating table, which imparts the real-time ability to reposition the operating table during a surgery. Trumpf Medical is a division of Hill-Rom Holdings (HRC).
Intuitive Surgical's single-site technology was provided 510(k) approval by the FDA in March 2016. According to the company, its single-site technology "enables surgeons to operate through a single incision in the patient's umbilicus during cholecystectomy, benign hysterectomy and salpingo-oophorectomy procedures."